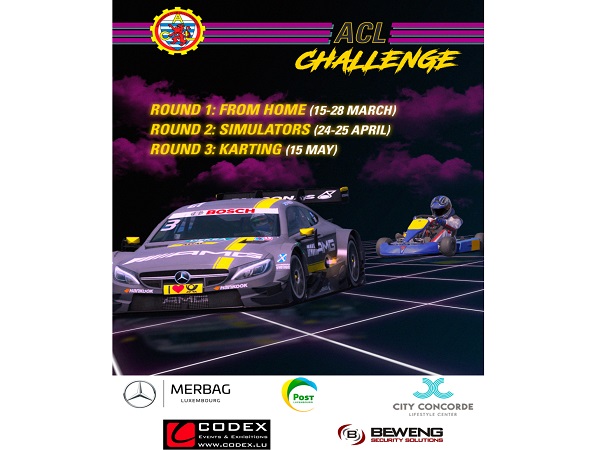 Credit: ACL
The Automobile Club du Luxembourg (ACL) has unveiled a new concept: the ACL Challenge; taking place over three events, the challenge combines eSport and karting.
In recent months, eSports have grown steadily in popularity. With races cancelled due to the health crisis, top drivers and organisers have found another way to keep fans interested: eSports.
As such, ACL has developed a new and unprecedented concept: combining both eSports and real-life kart racing at the ACL Mondercange site. Taking place over three events, the ACL Challenge aims to crown the most versatile driver - the person who is comfortable both in digital events and behind a kart wheel.
The first round of the ACL Challenge will start on 15 March 2021. This round will see participants play the RaceRoom game at home. Participation is open to anyone aged at least 15 and driving under the Luxembourg flag in the game. Driving a Mercedes-AMG C63 DTM, participants will try to achieve a stopwatch time on the Red Bull Ring circuit in Spielberg for two weeks. The 20 fastest drivers will qualify for the next two races. Interested individuals will be able to register directly on the RaceRoom game where a dedicated ACL event server will be open. The circuits and cars used will be made available free of charge for the duration of the event. No in-game purchase will be necessary. The free version of the game can be downloaded from game.raceroom.com.
From 24 to 25 April 2021, the 20 selected participants will be invited to the Mondercange site, where simulators will be made available. They will have to complete a time lap on two circuits at the end of which points will be awarded.
For the final round, the participants will meet on 15 May 2021 on the Mondercange karting track. On board 270cc karts, each driver will take part in four 15-minute races which will be broadcast live on the ACL's social networks. Points will be awarded after each race.
The points collected during test 2 on the simulator and test 3 in karting will be accumulated. The driver with the most points will be crowned the winner of the first edition of the ACL Challenge at the end of the event.
Partners for this first edition include Beweng Security Solutions, City Concorde, Codex, Merbag and POST Luxembourg.
Prizes include the presentation of cups and medals, an ACL membership card for the 20 participants of tests 2 and 3, vouchers for the karting track (offered by ACL), simulator sessions (offered by Beweng Security Solutions), City Concorde vouchers and a Mercedes for the weekend for the winner (offered by Merbag).
A participation fee of €70 will be requested from the 20 selected drivers in order to take part in tests 2 and 3.