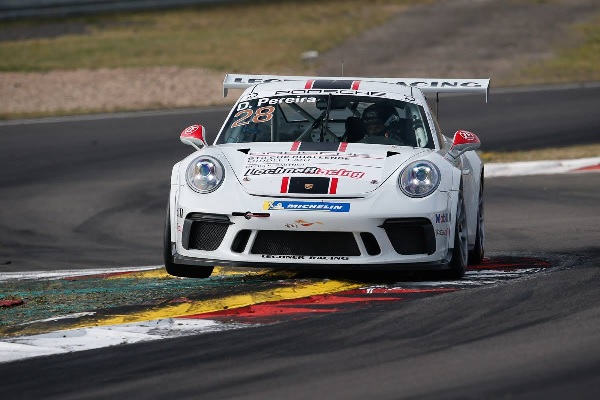 Luxembourg racecar driver Dylan Pereira climbed several places in the recent Porsche Carrera Cup Germany races, placing 1st in the Rookies classification.
This past weekend, Dylan Pereira competed in the fifth and sixth races of the Porsche Carrera Cup Germany, thus perfecting and testing his driving for the Porsche GT3 Cup. The Luxembourger climbed to six places to 6th place in the first and four places to 12th place in the second race.
With the heat felt on the Nürburgring circuit, in the trials, he opted for settings that allowed him to run without too much force in order to finish the races by gaining positions. The result was lighter aerodynamic support, which placed him one second behind pole position, starting from 12th place on the grid for the first race and 16th for the second.
At the start of the first race, Dylan Pereira quickly overcame two opponents behind Germany's Michael Ammermüller and ahead of French racecar driver Jean-Baptiste Simmenauer, his team-mates at Lechner Racing. In the third round, the Luxembourger was overtaken by Simmenauer before regaining a spot in the fifth round to return to 9th position. In the next round, he beat Simmenauer for 8th place and in the 9th lap he passed 7th. With his opponents beginning to have grip problems, Dylan Pereira was finally able to climb to the 6th place by the time he crossed the finish line. As well as having climbed from 12th to 6th place, the Luxembourg driver finished 1st in the Rookies standings.
In the second race, Dylan Pereira once again made a good start, avoiding midfield clashes and winning four places. In the third round, he widened a corner too much and dropped to 14th place. In the sixth round, he returned to 12th place, before passing to 11th in the seventh. During the sixteenth round, he came off the track and fell to 13th place, managing to climb another position in the last lap.
Results aside, the two races ultimately allowed the Luxembourger to successfully overcome the various setbacks and difficulties encountered.
The goal of this year is the top 3 final of the Porsche Mobil 1 Supercup for which Dylan Pereira will continue his training next weekend, also at the Nürburgring, where he will compete in two other races of the Porsche Carrera Cup Germany. He still occupies 5th place with 58 points in the championship among the 44 registered drivers.