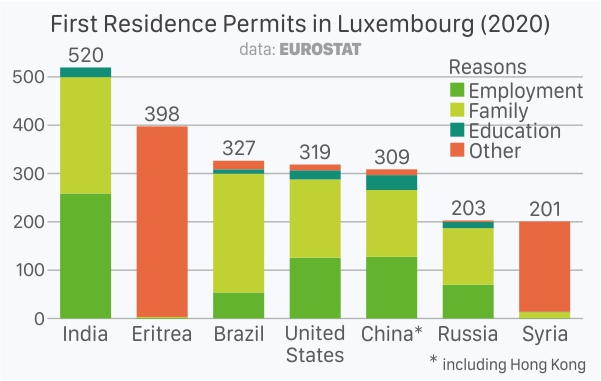 Luxembourg issued 5,708 first-time residence permits in 2020 to non-European Union (non-EU) country nationals (also known as a third country nationals) for stays longer than three months, a third (32.31%) less than the 8,431 first permits issued in 2019 and the first decrease since 2010, data from the European statistics agency Eurostat shows.
Travel restrictions due to the COVID-19 pandemic measures is the main factor for the decrease. The visa applications and approvals were processed slower due to longer administrative procedures partly due to temporary office closures and teleworking.
First permits issued for remunerated activities (employment) decreased by 40% with 1,554 first-time permits issued in 2020 compared to 2,614 a year earlier. Third country nationals from India had the highest share of 259 first-time permits in 2020; this was also lower than in recent years: 2019 (490) and 2018 (430). Next, 128 third country nationals from China (including Hong Kong) and 126 from United States (US) had their first-time permits, concluding the top three countries in 2020.
The education sector was most affected with a 60% drop in new visas issued. Only 249 non-EU nationals received their first-time permits in 2020 compared to 632 in 2019. 31 students from China (including Hong Kong) topped the list, followed by Iran (24) and India (20). Traditionally, pupils from US topped the list with 186 first-time permits issued in 2019 and 202 in 2018. In 2020, only 19 pupils from the US received first permits for education reasons, a 90% drop.
The first-time residence permits issued for family reasons was highest for Brazil (246) and closely followed by India (241) and then US (162): in total, 2,894 permits were issued in 2020.
In the case of first-time permits issued to diplomats, consular officers, retirees (of independent means), non-asylum discretionary permissions and all other permissions who are not included in any other category, are together noted under 'other'.
395 first-time permits were issued to Eritrean nationals, highest in the 'other' category, followed by 185 nationals from Syria and 47from the Philippines. In total, 1,011 first-time permits for 'other' reasons were issued in 2020.
The 5,708 first-time residence permits were issued for nationals from a total of 119 countries, for reasons of employment (94 countries), education (52), family-unification (105) or others (58).
The first-time residence permits issued in Luxembourg to seven non-EU nationalities with over 200 permits each in 2020 is shown here along with the reasons.
The first-time permits issued across the EU totalled circa 2.2 million in 2020, a drop of 24% compared with 2019, the first decrease after seven years of consecutive annual increases.
Poland issued 26% of all first-time residence permits granted in the EU to non-EU citizens (598,000), followed by Germany (313,000) and Spain (312,000). The 502,300 (84%) out of 598,000 total permits were employment-related first-time residence permits.