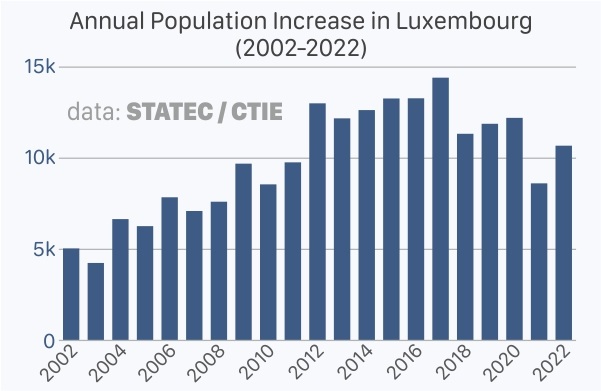 Luxembourg's resident population increased by over 10,600 people in 2021 compared to the previous year.
On Monday 3 January 2022, data from the national directory of registered persons (registre national des personnes physiques) showed a total of 645,417 Luxembourg residents - an increase of 10,687 compared to the 634,730 residents reported on 1 January 2021 by the national statistics agency Statec.
Of these 645,417 residents, 320,340 (49.63%) were women and 325,077 (50.37%) were men.
The increase of 10,687 residents is higher than that recorded a year earlier (8,622) but still less than the annual increases recorded since 2012.
The national directory of registered persons data is produced by the Luxembourg Government IT Centre (Centre des technologies de l'information de l'Etat - CTIE).
The official Luxembourg resident population will be published on a later date (1 April 2022) by Statec.