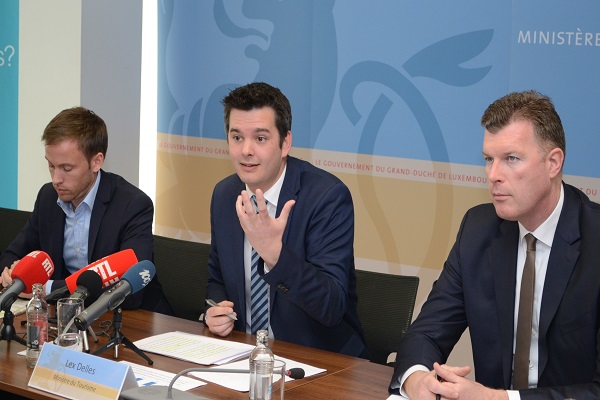 Presentation of the survey results. L-R: Sebastian Reddeker, CEO of Luxembourg for Tourism; Lex Delles, Minister of Tourism; Ricky Wohl, Ministry of the Economy - Directorate General Tourism; Credit: MECO
A survey conducted by Luxembourg for Tourism has shown that eight out of ten tourist to the Grand Duchy consider it to be a good destination.
Luxembourg for Tourism, in collaboration with the polling institute TNS Ilres, surveyed nearly 1,300 travellers who visited the Grand Duchy between May 2017 and November 2018 for either leisure or business trips. The aim of this survey was to analyse in depth the motivations, expectations, behaviour and feelings of tourists coming to Luxembourg and to find ways to improve the tourism offer and the development of attractions in accordance with the expectations of visitors.
According to the study, for 48% of visitors, this was their first trip to Luxembourg. The tourist activities of business travellers during their stay consisted mainly of enjoying the gastronomic offer and visiting the City of Luxembourg. 50% of their expenses were related to accommodation during their visit, compared to 40% of spending by leisure travellers.
In general, the satisfaction of leisure visitors was high with eight out of ten tourists considering Luxembourg to be a good choice of destination and nine out of ten visitors claiming that they would recommend it to their friends and/or family.
Minister of Tourism Lex Delles, who presented the survey results, said: "To satisfy travellers, adapt our tourism offer and guide our efforts to promote Luxembourg as a destination of choice, it is essential to have qualitative data on the experiences and feelings of tourists. The results of the survey clearly show that we are on the right track by positioning ourselves as a quality tourist destination for relaxing stays and by offering foreign visitors [a chance] to enjoy our natural environment through sports activities such as hiking or cycling."