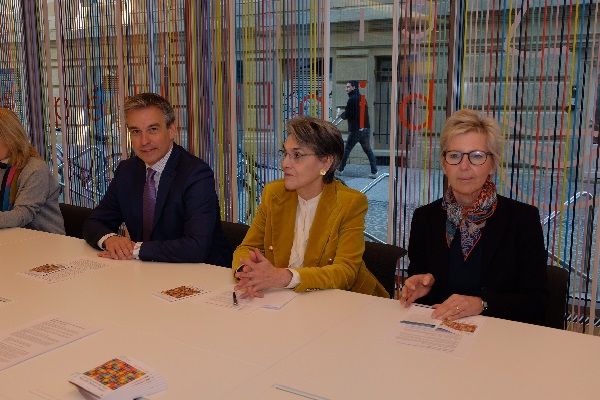 Education Minister Claude Meisch, Monique Kieffer, Director of the National Library (BnL), and Josée Kirps, Director of the National Archives (Anlux), present this year's programme; Credit: BnL
To celebrate the 2019 edition of the Book and Copyright Days, Luxembourg has unveiled an event programme dedicated to the theme of books and the five senses.
The anniversary of the death of two great writers, William Shakespeare and Miguel de Cervantes, on 23 April was chosen in 1995 by the UNESCO General Conference as a symbolic date to pay a worldwide tribute to the book and its authors.
The 2019 edition will take place from Monday 22 to Sunday 28 April and will be organised around the theme "The Five Senses of the Book - Mat alle Sënner liesen". As in previous years, figures from the Luxembourg book chain (authors, publishers, booksellers, libraries, schools, associations, etc.) will unite to promote books and reading. The Luxembourg Book and Copyright Days focus this year on sensory perception. Our five senses allow us to read and interpret the world just as we interpret the written text. From Proust's famous Madeleine to the tender petals of the Little Prince's rose, the worlds described in the books awaken our senses.
For one week, multiple activities and events will be offered to the public as well as school classes, allowing them to relearn how to perceive the world through reading and their five senses. These activities will take place across the country. The complete programme is available on the website: www.liesen.lu.