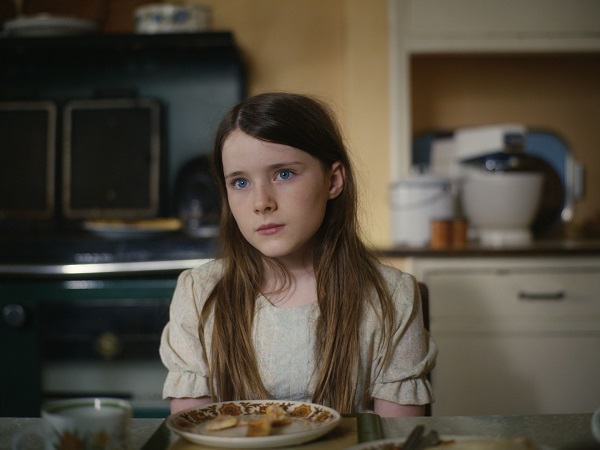 Credit: © Inscéal
Directed and written by Colm Bairéad (Murdair Mhám Trasna (2018); Finné (2018, TV series); The Joy (2015, TV series)) and starring Catherine Clinch (in her debut role), Kate Nic Chonaonaigh (Song of Granite (2017); Tarrac (2022); Shadow Dancer (2012)), Michael Patric (Angela's Ashes (1999); Black '47 (2018); The Bachelor Weekend (2013)), Carrie Crowley (Smother (2021-23, TV series); Fair City (2014-19, TV series); Extra Ordinary (2019)) and Andrew Bennett (The Cellar (2022); The Queen v Patrick O'Donnell (2021); Dating Amber (2020); Black '47 (2018)).

Irish-language drama, 95 mins

Based on the novel Foster by Claire Keegan and set in rural Ireland 1981, it was shot in Co Meath and Co Dublin.

Ten-year-old Cáit (Catherine Clinch) is quiet and unassuming, not fitting in at school and neglected by her mother (Kate Nic Chonaonaigh) and father (Michael Patric) who show her no love, affection or attention. They call her "the wanderer" as she goes off on her own from time to time. She is unhappy and wets the bed.

Cáit's mother is pregnant again and her father drives her to Waterford to stay at his wife's cousin Eibhlín Cinnsealach (Carrie Crowley) and her husband Seán Cinnsealach (Andrew Bennett), a farmer - a middle-aged couple whom Cáit has never met. While there, Cáit slowly starts to come out of her shell and the audience (as well as Eibhlín and Seán) learns that her mother is struggling financially, partly due to her father's gambling.

Eibhlín and Seán care for Cáit and occasionally have visitors to the farm and sometimes go into the town. It is during this time in this house where there are meant to be no secrets, Cáit discovers one. All the time, Eibhlín and Seán become more and more attached to the quiet girl and start to develop a relationship with Cáit...

Those living in Ireland in the 1970s and 80s will relive nostalgia from the early 1980s (also the 1970s) as the house interiors, clothing and cars, etc. were all from that period.

A brooding, insightful and sensitive drama with not a huge amount of dialogue, with wonderful cinematography (not of landscapes and scenic vistas, but of capturing the atmosphere both indoors and outdoors), with exceptional character development. Superb directing, particularly with the extraordinary final scene which will have audiences wondering what eventually happens...

The first-ever film in the Irish language to be shortlisted for an Oscar (Best International Film).

Currently being screened at the Luxembourg City Film Festival and, later this month, at the British & Irish Film Festival Luxembourg (BIFFL) Spring Festival.