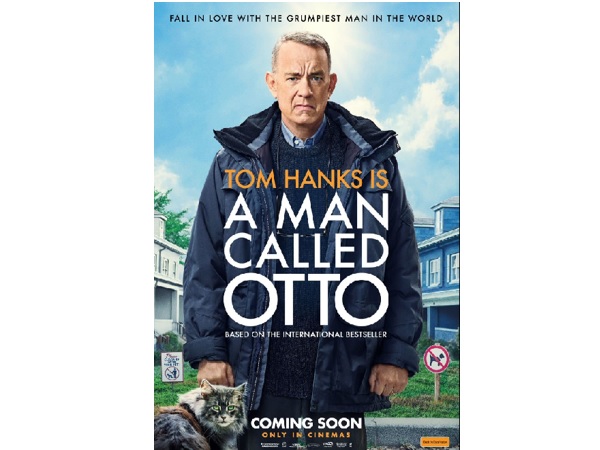 Directed by Marc Forster (Finding Neverland (2004); The Kite Runner (2007); World War Z (2013); Christopher Robin (2018)) and starring Tom Hanks (Cast Away (2000); Saving Private Ryan (1998); Forrest Gump (1994)), Mariana Treviño (Overboard (2018); Perfect Strangers (2018); 100 días para enamorarnos (TV series, 2020-21)), Cameron Britton (The Girl in the Spider's Web (2018); Emmageddon (2020); Mindhunter (TV series, 2017-19)) and Rachel Keller (Fargo (TV series, 2014), Legion (TV series, 2017-19) and Tokyo Vice (TV series, 2022)).

Drama, 126 mins; 12+

Based upon the novel A Man Called Ove by Fredrik Backman and a remake of the original film adaptation A Man Called Ove (2015, Sweden) directed by Hannes Holm.

Otto (Tom Hanks) has recently retired from his job has lost his wife Sonya (Rachel Keller) whom we see in flashbacks; however, Otto feels he has nothing to live for. He is grumpy, curmudgeonly and sour. He is principled, tidy and likes order, but not yet on the verge of having OCD - he is frustrated when people cannot put rubbish in the correct containers for recycling.

He meets his neighbours in passing, including Jimmy (Cameron Britton) out for his daily exercise, and we find out that they used to be a tight-knit community; however, he hardly ever bids them the time of day. Then Marisol (Mariana Treviño) and Tommy, with their two young girls, move in to the house opposite.

Marisol is pregnant, Otto feels that Tommy is useless as he cannot reverse their car and U-haul trailer, with Otto resorting to doing it himself. Marisol is bubbly and outgoing, the polar opposite of Otto: yet they start to form a friendship as they understand each other - Otto sees that she holds their family together and Marisol sees that Otto is lonely.

While the first part of the film may not indeed be a ton of laughs, it is not depressing either: it explores the characters and their back stories, particularly Otto's. Then things start to evolve and there are a number of uplifting - and others sad - moments as the story's background shapes the characters' futures and the audience feels the heartfelt emotion and poignancy. Otto and Marisol's unlikely friendship - possibly more of a mutual admiration of each other - develops and brings the audience on a voyage of discovery, about human nature and how it can evolve and adapt.

Tom Hanks delivers a wonderful performance as Otto, whereas Mariana Treviño is tremendous as Marisol.

Currently screening at Kinepolis in Luxembourg-Kirchberg.