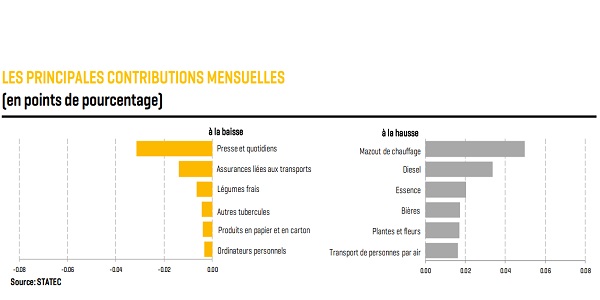 Luxembourg's statistical institute STATEC reported today that the annual rate of inflation in Luxembourg has increased from 2.1% to 2.5% over one month.
In May 2021, the national consumer price index, calculated by STATEC, reached 2.5%. The price of petroleum products went up 2.2% and that of goods and services (excluding petroleum products) rose by 0.2% over one month.
After falling in April, the price of petroleum products started to rise again in May. At the pump, motorists had to pay 3.2% more for a litre of Diesel and 1.4% more for a litre of petrol compared to the previous month. Heating oil prices rose by 4.1%.
Regarding food prices, that of whole milk and fresh fruit increased by 2.2% and 1.4% respectively over one month. The price of different types of meant was up 0.7%, whilst price drops were observed for fresh seafood (down 3.8%), fresh vegetables (down 1.2%) and rice (down 1.0%). Overall. the price of fodd products increased by 0.4% over one month and by 0.3% over one year.
In the supermarket alcohol aisle, price increases were observed for beers (up 1.5%), spirits and liqueurs (up 0.8%) and wines (up 0.3%). The price of non-alcoholic beverages also rose by 0.7% over one month, with that of mineral water increasing by 2.2%.
The price of several goods and services pulled inflation down in May, particularly that of news articles (down 9.6%), vehicle insurance (down 1.0%) and personal computers (down 1.0%). On the other hand, package holiday prices rose over the Pentecost school holidays (up 1.6%) and airline ticket prices were up 13.8% compared to April
The annual inflation rate stood at 2.5% in May, up from 2.1% the month before. The general index for the month of May expressed in base 100 in 2015 was 108.50 points.