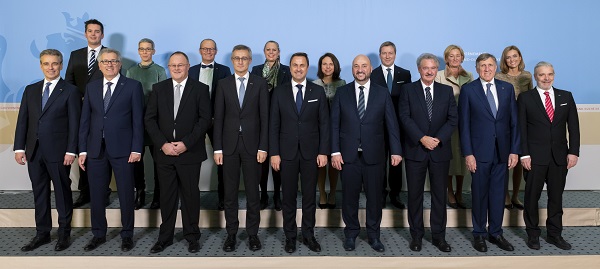 Luxembourg's government; Credit: Emmanuel Claude, copyright SIP
On Friday 6 November 2020, the cabinet of the Luxembourg government met following the postponement of their scheduled meeting on Wednesday this week; Luxembourg's Prime Minister, Xavier Bettel, chaired the meeting which addressed current international and European political issues, as well as domestic issues related to the COVID-19 pandemic.
The government ministers reviewed the current unemployment figures, including the work of the Conjuncture Committee which last met on 28 October 2020. They also reviewed the COVID-19 pandemic and the current situation across the Grand Duchy; they adopted a new bill amending the law of 20 June 2020 concerning temporary exemptions from certain labour law provisions in relation to the health crisis, extending the provisions in the law up to 30 June 2021 but reducing their scope to apply them only to the health sector in general plus the aid / care sector.
In addition, the cabinet ministers adopted a draft Grand-Ducal regulation fixing the rate of compensation for partially unemployed people until 30 June 2021.