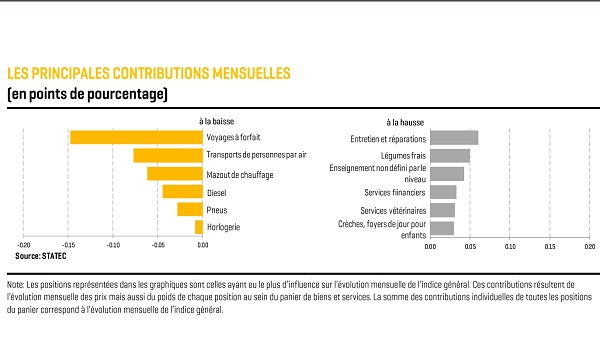 Credit: STATEC
The annual rate of inflation in Luxembourg has risen from 0.6% to 0.7% over the past month.
In September 2020, the national consumer price index, calculated by STATEC, fell by 0.1% compared to the previous month. This decrease has been mainly attributed to a decline in travel and petroleum product prices.
With the end of the school holidays, package holiday prices fell by 6.1% and commercial flight prices dropped 24.3% compared to the month of August.
The price of petroleum products continued to fall for the second consecutive month, with a decrease of 2.3% compared to the previous month recorded. This decline was mainly due to lower heating oil prices (down 8.4%). At the pump, motorists also spent 3.9% less per litre of diesel and 0.6% less per litre of petrol compared to August.
Food prices rose by 0.5%, with increased recorded particularly for fresh vegetables (up 9.4%) and fresh fish (up 3.9%). On the other hand, prices fell for potatoes (down 3.4%) and fresh fruit (down 0.8%). The price of non-alcoholic beverages also dropped (down 0.7%) compared to August. In comparison to last year, food prices were up 3.3%.
Regarding services, prices rose for car maintenance and repairs (up 2.5%), financial services (up 1.8%) and veterinary services (up 12.4%) in September 2020. The return to school also saw the cost of certain private lessons go up (3% higher than before).
All things considered, the annual rate of inflation now stands at 0.7%. The general index for the month of August expressed in base 100 in 2015 amounted to 106.62 points.