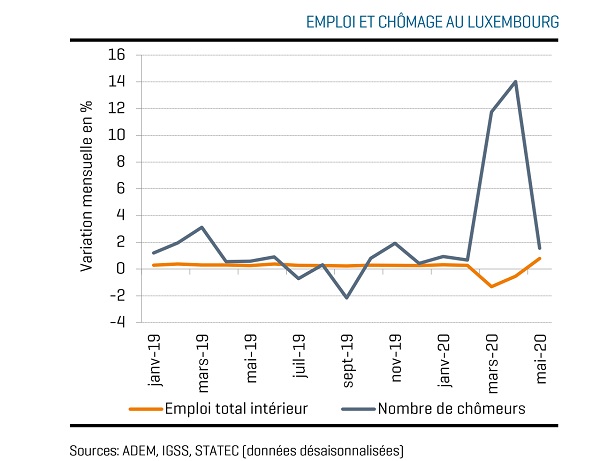 Job market situation in Luxembourg; Credit: ADEM / IGSS / STATEC
In its latest publication, STATEC has reported that the coronavirus pandemic could result in a severe recession in Luxembourg this year.
The containment measures implemented to limit the health consequences of the COVID-19 pandemic had a heavy and rapid impact on the economy. Like many countries, Luxembourg will experience a deep recession this year, according to STATEC, with significant repercussions on the labour market and public finances.
Nevertheless, the job retention measures taken by the government during confinement are expected to limit the negative effects of the crisis on the salaried workforce, with employment which should further increase by 0.8% in 2020 in the scenario of limited confinement; this follows +3.6% in 2019.
Meanwhile, the economic downturn will translate into a marked deterioration in public finances. STATEC has estimated that the government balance could deteriorate sharply, from +2.2% of GDP in 2019 to -6% (or -€3.5 billion) this year, thus representing be an unprecedented deficit.
The full publication is available, in French, at https://statistiques.public.lu/fr/actualites/economie-finances/conjoncture/2020/06/20200625/index.html.