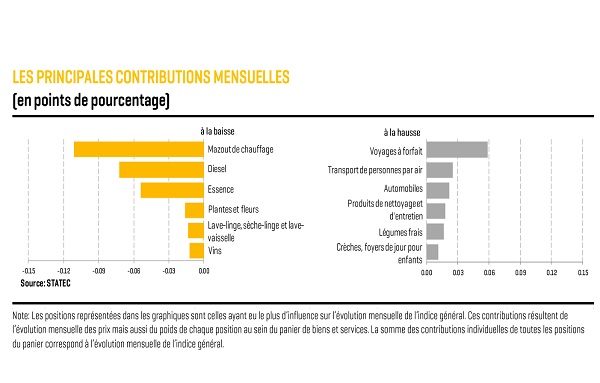 Credit: Statec
The annual rate of inflation in Luxembourg has dropped from 2.1% to 1.8% over the past month.
In June 2019, the national consumer price index, calculated by STATEC, fell by 0.07% compared to the previous month. This decrease was mainly due to a decline in petroleum product prices, which fell by 4.5% compared to May 2019.
Following increases in May, fuel prices dropped again last month (down 5% for diesel and 4.3% for petrol). For their part, oil heating prices were 9.6% lower than those recorded in May 2019. Compared to June of the previous year, the prices of black gold derivatives in the basket of the index dropped by 2.0%.
Similarly, the price of plants and flowers fell by 4.0%, that of large electrical appliances dropped by 2.2% and telephone equipment decreased by 1.4%.
Nevertheless, prices excluding petroleum products recorded a slight increase of 0.19% overall in the past month. Indeed, food prices rose by 0.5% compared to May 2019, with particular increases found in vegetables (up 2.3%) and meat products (up 0.9%). Fruit prices, on the other hand, fell by 0.8%. In sum, food prices rose by 1.6% in one month.
Regarding services, travel prices contributed to this slight increase. The start of the summer season and school holidays saw travel prices rise be 2.8% compared to May. Indeed, flight prices increased by 10.5% and taxi journey prices by 4.5% last month.
The overall index for the month of May, expressed in base 100 in 2015, amounted to 105.55 points. The semi-annual average of the index linked to the 1.1.1948 base rose from 866.85 to 868.48 points.