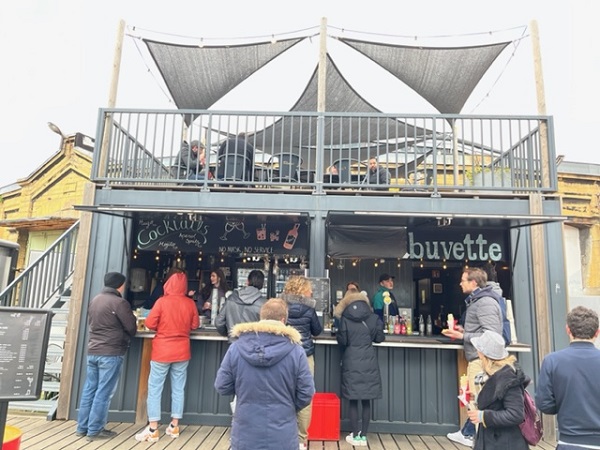 Credit: Geoff Thompson
The Eat It! Luxembourg Street Food Festival returned to the Rotondes in Luxembourg-Bonnevoie at the weekend for the first time in three years.
The outdoor event held on the parvis / concourse at the Rotondes saw a total of seventeen mobile street vendors located along the sides of the U-shaped outdoor area, offering something for all tastes, whether meat lovers, vegetarians or those with a sweet tooth. Most food offerings were warm / hot, with others such as ice cream finding the cooler weather not that welcoming for sales.
There were various areas equipped with tables and benches, with one covered by large table umbrellas and awnings, to ensure that those attending could eat in at least some level of comfort: there was little that they could do regarding the weather - temperatures were around 6C on Saturday and 8C on Sunday. It certainly felt warmer when the sun was shining but, unfortunately the skies were grey for most of the event on the two day, with overcast conditions interrupted only by sleet showers on the Saturday, some turning to snow for short periods. Many were hoping that one of the Rotondes could have been opened to provide shelter...
The orgnaisers were on hand, wiping down table-tops and seats, not only with disinfectant but also to dry them off between showers, and red bins were plentiful meaning that the place was kept clean throughout in what was a very well organised event. While the organisers did announce beforehand that those attending may have to queue to enter - and had erected a series of crowd control barriers in readiness - certainly on Saturday afternoon this was not required with security guards letting people in freely as numbers were still very manageable and limitations had not yet been required.
While some attendees had their favourite food trucks to visit, others decided on going on a culinary world tour adventure, snacking between various Street Food outlets. The choices ranged from food from the Mediterranean, the Middle East, to both South and North America, as well as Asia.
The specialities included:
Mediterranean / European:
- Greek-Food by Michalis (Greek dishes): Pits Gyros
- La Mer Du Sud (seafood): Normandy oysters
- Verace (Italian): pizza
- Magic-K (artisanal Belgian croquettes): Honey ham croquettes
Middle Eastern:
- Amazing street food (Lebanese): Mezzé or pitas
South American:
- Los Maracas (Mexican): Quesadillas
- The Chili Truck (Mexican): Burritos
North American:
- FoodRiders (American burgers): Cheeseburger
- LëtzeBurger (burgers): Chilli-cheeseburger
- Las Fritas (French fries): sweet potato chips
Asian:
- Buibui (Vietnam street food): Bahn Mi (sandwich)
- De Reiskocher (Indonesia): Nasi Goreng
- Little Mango (Thai): Tom Yum Kung soup
and Drinks and Desserts:
- Buvette (bar): Mojito cocktails
- Mr and Mrs Muffle (create-your-own desserts from Hong Kong): Muffin / Waffle mix
- Crepes
- Bargello (ice cream): Stracciatella Tradizionale
The next Street Food festivals in the Grand Duchy featuring food trucks from Luxembourg and further afield (when hopefully the weather will be a bit kinder) will be held around the National Day, as follows:
- Remich Street Food Festival from 23-26 June 2022 along the Esplanade at Remich (see www.facebook.com/StreetFoodFestivalRemich)
- Yumm Festival from 24-26 June 2022 at the Place de l'Europe in Luxembourg-Kirchberg (see www.yumm.lu)
Additionally, the Culture Forest Festival on 28-29 May 2022 in Esch-sur-Alzette (see www.culture-forest.com) will also feature a number of food trucks.