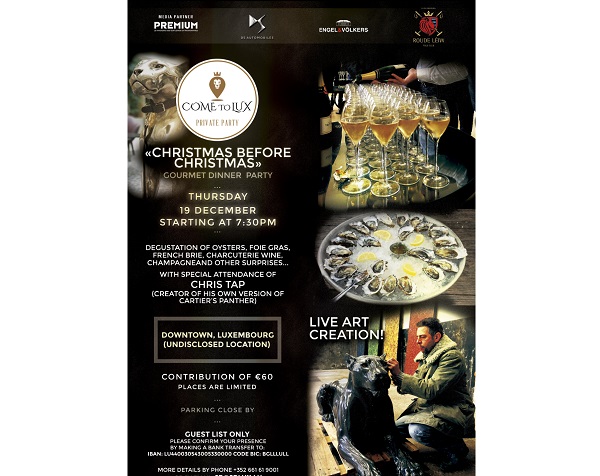 On Thursday 19 December 2019, Come to Lux will be hosting a private gourmet dinner party in Luxembourg City from 19:30.
On this occasion, participants will have the opportunity to exchange and share experiences whilst tasting oysters, foie gras, salmon, French brie and other surprises. Dutch artist Chris Tap, who created his own Cartier's Panther, will also present a live art creation of a sculpture during this evening.
This networking event will bring together companies, lawyers, bankers, artists, car racing professionals and globetrotters, as well as new arrivals in Luxembourg.
A limited number of guests will be able to participate at this event.
To attend, interested individuals should confirm their participation by sending the contribution of €60 to the bank account of JR lux: IBAN LU04
0030 5430 2553 0000, BIC BGLLLULL. The exact venue will be confirmed to attendees.