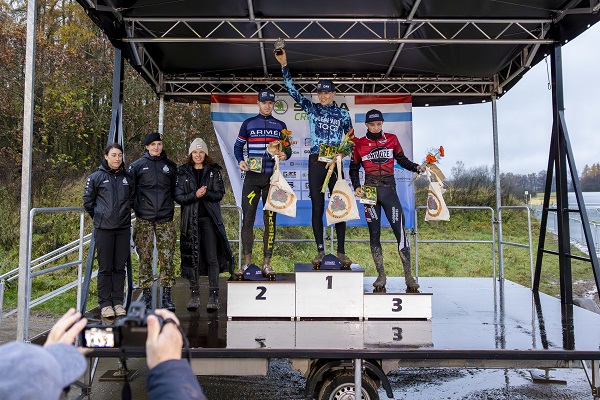 (L-R elite winners on podium) Loïc Bettendorff (2nd place); Mats Wenzel (1st place); Ken Conter (3rd place); Credit: © Armée Luxembourgeoise
The Luxembourg Army has reported that more than 130 participants registered in five different categories for the first edition of the Army Grand Prix in interregional cyclo-cross, which took place on the Herrenberg plateau in Diekirch on Saturday 18 November 2023.
The activity took place in the context of intra-military competitions organised within the framework of the International Military Sports Council (CISM). In collaboration with the Cycling Team Toproad Roeserbann, the activity was also integrated into the organisation of a federal sports competition included in the competition calendar of the Luxembourg Cycling Federation and part of the Skoda Cross Cup.
To the applause of the spectators who came in large numbers despite the rain, the athletes, including elite athletes Christine Majerus and Loïc Bettendorff, among others, set off on a 2.8 km circuit around the Grand-Duc Jean Barracks in Diekirch.
Military teams from Luxembourg, Germany, Belgium and the Netherlands took part in this event, as did more than 100 civilian riders registered via the Luxembourg Cycling Federation.
In the end, Mats Wenzel emerged victorious among the elite male riders, ahead of Loïc Bettendorff and Ken Conter. Christine Majerus finished in first place among the women, followed by Isabelle Klein.