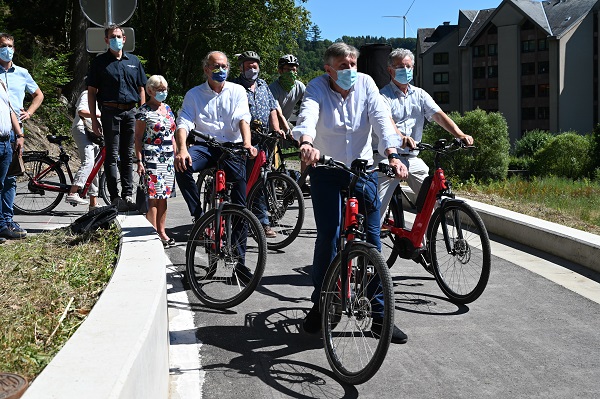 L-R: Marie-Josée Jacobs, CARITAS President; Claude Turmes, Minister of Energy & Spatial Planning; François Bausch, Deputy PM, Minister of Mobility & Public Works; Emile Eicher, Deputy Mayor of Clervaux; Credit: MMTP
Thursday marked the inauguration of the underpass for cyclists and pedestrians in Clervaux, which constitutes an important link in the cycling network in northern Luxembourg.
On 30 July 2020, Luxembourg's Deputy Prime Minister and Minister of Mobility and Public Works, François Bausch, and Minister of Energy and Spatial Planning, Claude Turmes, accompanied by Emile Eicher, Deputy Mayor of Clervaux, and CARITAS President Marie-Josée Jacobs, attended the inauguration of this underpass for cyclists and pedestrians.
The project forms part of the construction of the North PC21 cycle path, which starts in Ettelbruck and connects to Belgian territory near the Schmiede. The PC21 will be connected to the Vennbahn cycle path on the old railway line. Its destination is Aix-la-Chapelle (Germany) via Burg-Reuland (Belgium), St Vith (Belgium), Monschau (Germany) and Raeren (Belgium) over a distance of 125 km. On the section between Clervaux and Cinqfontaines, the PC21 will follow the route of the railway. The underpass for cyclists connects the centre of Clervaux with the train station, the new bus station, Lycée Edward Steichen and, via the Transversale de Clervaux, the future PC7 which runs along the N7. The PC21 will provide access to other cycle routes in the north of the country.
Mobility Minister François Bausch described the project as "essential not only for the daily travel of residents, but also for international cycle tourism, once the PC21 is connected to the Vennbahn". He continued: "The objective is to carry out the work in several phases with a view to a parallel opening with the Transversale de Clervaux in spring 2023".
The cost of the project amounted to €1,200,000 and the execution time was 270 working days.