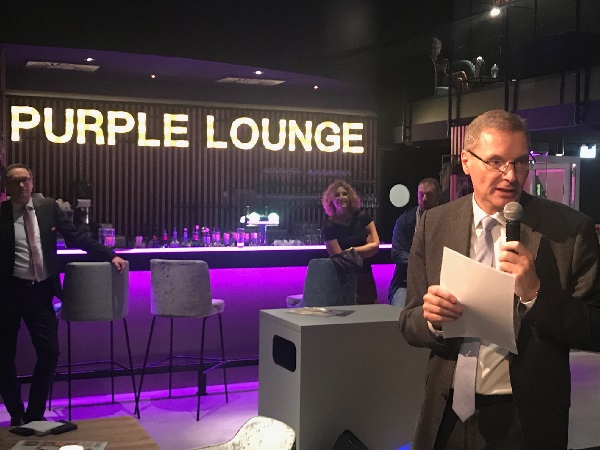 Guido Berghmans, Director General of Casino2000; Credit: Geoff Thompson
On Thursday evening, Casino2000 unveiled the revamped Purple Lounge and a brand new Snack Bar at their entertainment venue in Mondorf-les-Bains in the south of the Grand Duchy.
The Purple Lounge can now offer 180 covers downstairs on the one level, in addition to the space around its expansive balcony. The format may be the same but the style has been changed, significantly. Gone are the plush carpets and curtains; in place instead are tiled floors and window blinds. The white ceiling is now black and the furnishings have all been completely replaced. The permanent stage has been replaced by a smaller, temporary one, and the original entrance door has been re-opened (it had been closed off after the second larger door was installed a number of years ago.
The Purple Lounge offers a Brasserie-style menu at very attractive prices, with concerts (tribute bands, etc.) for as little as €9 entry (excluding food & drinks).
The Snack Bar is a completely new concept. It allows for customers - of the gaming machines or attending events at the Chapito concert venue, for example - to use the totally modern self-service facility offering a wide selection of drinks, sandwiches, wraps and other snacks, with its own cosy seated area.
These initiatives are an attempt to attract younger audiences (in their 30s) yet retaining their traditional 45+ customer-base.
See www.casino2000.lu for details.