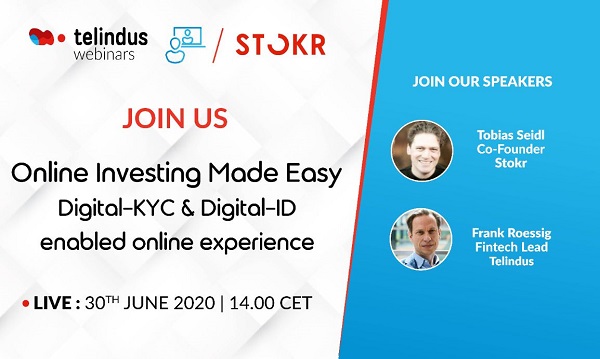 Luxembourg-based ICT and telecom service provider Telindus and digital marketplace STOKR have announced that they are organising an English-language webinar on online investment on Tuesday 30 June 2020 at 14:00.
Speaking at this webinar, entitled "Online Investing Made Easy, Digital KYC & Digital ID enabled online experience", will be Tobias Seidl, Co-founder of STOKR, and Frank Roessig, Fintech Lead at Telindus.
According to the organisers, online finance and investing are gaining in importance (a tendency that has been accelerated by the COVID-19 outbreak) and it is therefore essential to provide clients with an easy and seamless experience from the moment that they set foot into an online space. At the same time, security and compliance must be warranted.
Join this webinar to discover how a 100% online investing platform uses innovative digital tools to successfully provide a novel service experience to investors.
Programme
14:00: Introduction
14:05: The importance of Digital-KYC / Digital-ID for a 100% Online Investing
14:15: STOKR Investing Experience
14:25: STOKR Onboarding demo
14:30: How to enable a fluid Online Client Experience
14:40: Outlook for Online Investing
14:50: Q&A
To register for this webinar at https://app.livestorm.co/proximus-luxembourg/online-investing-made-easy-digital-kyc-and-digital-id-enabled-online-experience?utm_campaign=KYCwebinar&utm_medium=email&utm_source=invitation.