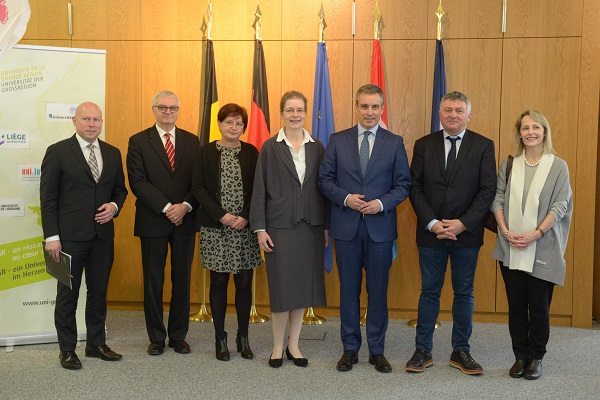 (L-R): Stéphane Pallage, University of Luxembourg; Hans-Jürgen Blinn, Rhineland-Palatinate; Rachel Zirovnik, Département de la Moselle; Susanne Reichrath, Saarland; Minister Claude Meisch; Edouard Jacqué, Conseiller régional Grand Est; Chantal Kaufmann, W; Credit: Axel Kohlhaas
On Tuesday 15 January 2019, at the invitation of Luxembourg's Minister for the Greater Region, Corinne Cahen, and the Minister of Higher Education and Research, Claude Meisch, a Ministerial Conference on Higher Education and Research of the Great Region was held at the Maison du Savoir (House of Knowledge) in Esch-Belval.
On this occasion, the partners of the Greater Region (Luxembourg, Rhineland-Palatinate, Saarland, Grand Est and Wallonia-Brussels Federation) were able to address topical cross-border issues, such as the candidature of the University of the Grande Region (UniGR) to the "European University" pilot project, support for cross-border research, continuous promotion of student mobility, development of cross-border training and mutual recognition of academic degrees.
The partners represented are convinced of the special importance of cooperation between higher education institutions and research in the Greater Region and its positive impact on the academic promotion, the employability of all inhabitants and the attractiveness of these five regions. With this in mind, the Ministerial Conference is an important event that allows for progress in cross-border cooperation at the level of research and higher education.
The ministerial conference took place at a pivotal moment, as the next decisions on the European Framework Programmes 2021-2027 will, according to the Minister of Higher Education and Research, Claude Meisch, not only present new challenges, but also new opportunities that institutions in the field of higher education and research of the Greater Region must seize.
The highlight of the conference was the announcement of a new financial mechanism to support cross-border research to highlight scientific excellence and create new synergies in the Greater Region.
In addition to the Interregional Research Prize for the Greater Region honouring research projects, this new instrument aims to finance dissemination activities of the results of scientifically validated projects still in progress, involving researchers from the institutions of the Greater Region. The supported dissemination activities should then create new nuclei of cooperation in the scientific community and inform the general public about the scientific excellence of the research conducted in the Greater Region.