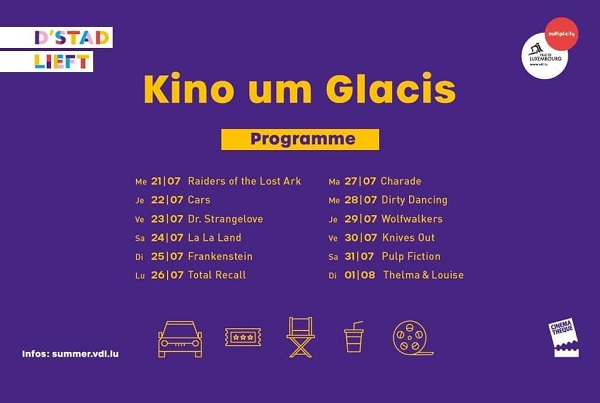 The City of Luxembourg (Ville de Luxembourg - VdL) and the Cinémathèque Luxembourg have announced that they are once again transforming the Champ de Glacis car park in Luxembourg-Limpertsberg into a walk-in and drive-in cinema this summer.
Following the success of last year's first edition, "Kino um Glacis - Drive & Walk-in" is returning this summer, from 21 July until 1 August 2021. Once again this year, Kino um Glacis will allow spectators to watch films from the comfort of their car or on a two- or four-seater sofa.
The programme includes a variety of contemporary and classic films, as well as family-friendly or cult movies that will evoke the magic of the silver screen under a moonlit sky.
Programme
Wed. 21/07: Raiders of the Lost Ark
Thu. 22/07: Cars
Fri. 23/07: Dr. Stranglelove
Sat. 24/07: La La Land
Sun. 25/07: Frankenstein
Mon. 26/07: Total Recall
Tue. 27/07: Charade
Wed. 28/07: Dirty Dancing
Thu. 29/07: Wolfwalkers
Fri. 30/07: Knives Out
Sat. 31/07: Pulp Fiction
Sun. 01/08: Thelma & Louise
Film screenings will commence at 21:30. Entry costs €12 per film per car or four-seater sofa and €8 per two-seater sofa. Tickets are available on www.luxembourg-ticket.lu.