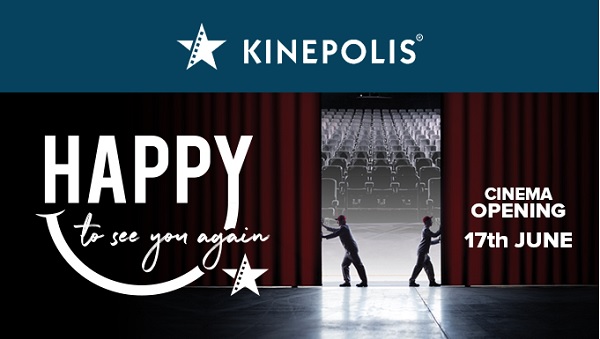 With commercial cinemas across Luxembourg preparing to reopen on Wednesday 17 June, the Kinepolis group has announced its line-up of films, as well as as its new services such as ordering drinks and snacks online beforehand (KineGo), and its hygiene and social distancing guidelines in line with Phase 3 of deconfinement (lockdown exit strategy).
Film line-up
The new films being screened from 17 June in Luxembourg include The Hunt, a thriller directed by Craig Zobel and starring Hilary Swank, as well as De Gaulle, a historical drama (in French) and others. Also being screened from 17 June are a number of films that had just been released onto Luxembourg screens before the lockdown come into force in mid-March, including Dark Waters, a drama starring Mark Ruffalo, Anne Hathaway and Tim Robbins, Little Women, 1917, The Gentlemen, The Invisible Man and Sonic, as well as Onward, Call of the Wild and Dolittle, for families.
KineGo
In addition to booking tickets online, cinema-goers can also choose drinks and snacks from among 5 proposed menus; when customers then visit the cinema to see their chosen film, they can also collect their reserver order of drinks and snacks from the specific KineGo counter using a reservation number. The shops remain open but the ranges on offer are restricted to pre-packaged items; payment is only possible by card. Surfaces are cleaned regularly and disinfectant gels are available at various strategic locations in the cinemas. Cinema-goers are encouraged to arrive 30 minutes prior to the screening.
Social distancing, Cleaning, etc.
At Kinepolis cinemas (Kinepolis-Kirchberg, Kinepolis-Belval, Ciné Utopia), the screening rooms are reopening with seating allocated to ensure that physical distancing of at least two metres between members of a household and others customers is ensured. In addition, wearing a mask is mandatory during visits to watch a film; however, cinema-goers can remove their mask when seated.
For details, see www.kinepolis.lu