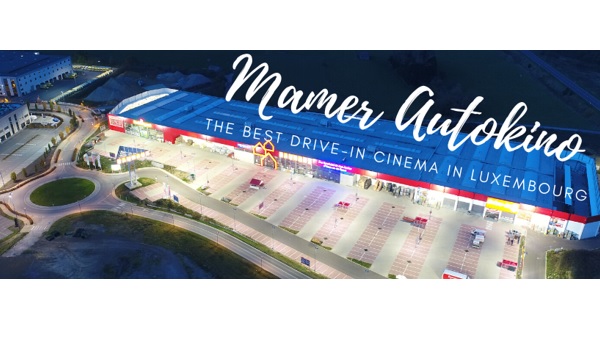 The municipality of Mamer has announced that it is transforming the carpark outside the Bauhaus DIY store into a Drive-In Cinema (Mamer Autokino), to be operational from tomorrow, Thursday 14 May 2020.
The open-air drive-in cinema initiative is being organised by the municipality of Mamer in collaboration with Caramba and Bauhaus Luxembourg.
The screenings will take place in the carpark of the Bauhaus store at the business park in Capellen. Most screenings are being held at 21:00, except on Sundays and public holidays when screenings will be held at 14:00, 17:00 and 20:00.
Tickets cost €15/car (€10 for children's films) are only sold in advance from www.mamer.lu/autokino
This price is per car, regardless of the number of occupants.
Safety instructions and measures:
• Please buy your tickets online before your visit
• Please arrive in time so as not to delay the start of the screening
• Please keep the place clean using the bins provided
• Do not forget your mask
• Please observe the sanitary measures implemented
• Please follow the instructions given by the staff
The programme changes weekly; the programme from 14-24 May has been announced, as follows:
Thu 14 May @ 21:00: The Gentlemen (EN, with sub-titles in FR) - action comedy
Fri 15 May @ 21:00: Die Känguru Chroniken (DE) - comedy
Sat 16 May @ 21:00: Jumanji, the Next Level (DE) - comedy adventure
Sun 17 May @ 14:00: Frozen II (DE) - animated
Sun 17 May @ 17:00: Sonic the Hedgehog (DE) - comedy adventure
Sun 17 May @ 20:00: The Lion King (EN, with sub-titles in FR) - adventure
Wed 20 May @ 21:00: Bloodshot (EN, with sub-titles in FR) - action
Thu 21 May @ 14:00: Frozen II (FR) - animated
Thu 21 May @ 17:00: The Lion King (DE) - adventure
Thu 21 May @ 20:00: Knives Out (EN, with sub-titles in FR) - comedy crime drama
Fri 22 May @ 21:00: Joker (EN, with sub-titles in FR) - thriller
Sat 23 May @ 21:00: Onward (EN, with sub-titles in DE) - animated
Sun 24 May @ 14:00: Sonic the Hedgehog (FR) - comedy adventure
Sun 24 May @ 17:00: Onward (DE) - animated
Sun 24 May @ 20:00: Das perfekte Geheimnis (DE) - romcom