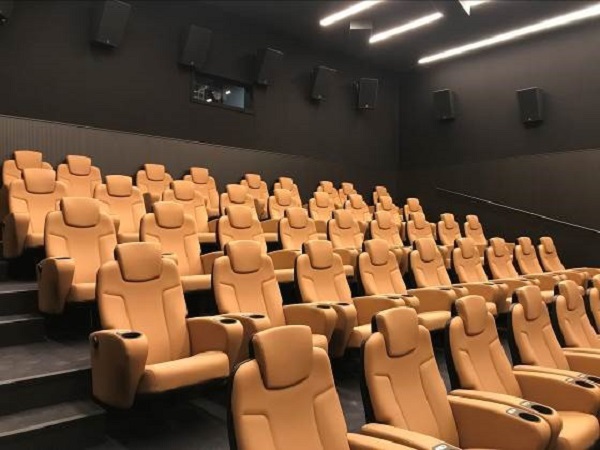 The €3.63 million project to renovate the old school in Kahler (Koler in Luxembourgish; located close to the Belgian border and Ikea) to open it to the community life with a brand-new cinema amongst other facilities, is nearing its conclusion; the official inauguration of the new "Duerfzenter Koler" Centre will take place on Friday 30 November 2018.
In May 2012, the residents of Kahler and representatives of the municipal administration had a constructive dialogue, from which the idea was born to transform the old primary school of Kahler and the fire station into a new community centre including a small regional cinema.
From 2013 to 2015, it was still necessary to overcome two constraints before starting the official project: the move of the Kahler Fire Brigade Response Centre to the new building of the Fire and Rescue Service at Garnich and the relocation of the tenant of the 1st floor of the old school in the neighbouring house renovated by the municipality. The renovation project finally led to the creation of the new Community Centre, which is suited to the needs of local associations.
Together with the new cinema building, entitled "Kinoler", with its 46 ultra-comfortable seats and its extraordinary sound system, this new Centre has the potential to become the favourite meeting place of the residents of Kahler and, even beyond, a centre of cultural appeal for all citizens of the municipality of Garnich, or even the western region of the Grand Duchy.
The new "Duerfzenter Koler" includes various rooms, including a 100m2 "salle des fetes", two meeting rooms of 50m2 and 25m2, a 46-seat cinema. The centre also offers an entrance hall serving as a foyer, an awning providing protection for outdoor activities, a fully-equipped kitchen, necessary sanitary facilities, storage rooms in the basement and technical premises in the basement.
Work outside the complex, including a small ecological car-park, will be completed shortly. The entrance of the complex has been embellished by thematic graffiti of the young artist Alain Welter.
Of the total cost of €3,630,000, 65% went towards the "Duerfzenter Koler" Community Centre and 35% for the fully-equipped cinema.
Kinoler Cinema
The new cinema, named "Kinoler", will launch on 1 December 2018 and currently 6 screenings per week are planned: Wednesday, Thursday, Friday, Saturday and 2x on Sunday. Tickets will cost are €8 for adults and €6 for students & children.
This new cinema is a member of the "CDAC" (Center for Broadcasting and Cinematographic Animation), thus guaranteeing current and attractive programming. The programme will be announced online at www.kinoler.lu.
The Duerfzenter Koler & "Kinoler" cinema is located at 38 Rue Principale, L-8376 Kahler, email: kinoler@garnich.lu