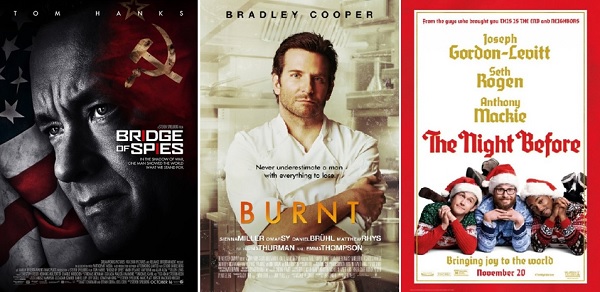 Utopia SA will be screening the following new releases from today, Wednesday 2 December 2015:
- Bridge of Spies (drama, 141 mins, 12+, in EN), at Utopolis Kirchberg & Utopolis Belval.
Directed by Steven Spielberg and starring Tom Hanks, Mark Rylance, Alan Alda.
Synopsis: In the cold war, A lawyer, James B. Donovan recruited by the CIA and involved in an intense negotiation mission to release and exchange a CIA U-2 spy-plane pilot, Francis G. Powers that was arrested alive after his plane was shot down by the Soviet Union during a mission- with a KGB intelligence officer, Rudolf Abel who was arrested for espionage in the US.
- Burnt (comedy drama, 101 mins, 6+, in EN).
Directed by John Wells (August: Osage County, The Company Men, also know as producer/writer to ER tv series) and starring Bradley Cooper (Silver Linings Playbook, American Hustle, American Sniper, The Hangover, Limitless, The Place Beyond the Pines), Sienna Miller (Foxcatcher, American Sniper, Stardust, Layer Cake, G.I. Joe: The Rise of Cobra), Daniel Brühl (Rush, Colonia, The Bourne Ultimatum, The Fifth Estate, Woman in Gold), Uma Thurman (Pulp Fiction, Percy Jackson & the Lightning Thief, Kill Bill: Vol. 1 &2), Omar Sy (Intouchables, Jurassic World, X-Men: Days of Future Past) and Emma Thompson (Sense and Sensibility, The Remains of the Day, In the Name of the Father, Saving Mr. Banks, Harry Potter and the Order of the Phoenix).
Synopsis: Adam Jones is a Chef who destroyed his career with drugs and diva behavior. He cleans up and returns to London, determined to redeem himself by spearheading a top restaurant that can gain three Michelin stars.
- The Night Before (comedy, 101 mins, 16+, in EN).
Directed by Jonathan Levine and starring Joseph Gordon-Levitt, Seth Rogen, Jillian Bell.
Synopsis: On Christmas eve, three lifelong friends, two of whom are Jewish, spend the night in New York City looking for the Holy Grail of Christmas parties.
See www.utopolis.lu for details.