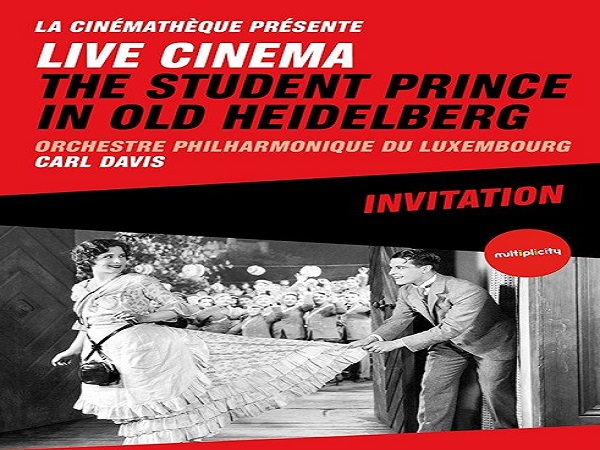 The Orchestre Philharmonique du Luxembourg will be performing at the Live Cinema screening of "The Student Prince of Old Heidelberg" on Friday 1 March 2019 at the Philharmonie at 20:00.
Since 1987, the Cinémathèque de la Ville de Luxembourg has been organising its prestigious "Live Cinema" event. This year, Carl Davis, together with the Orchestre Philharmonique du Luxembourg, will bring to life the great tradition of silent cinema with live musical accompaniment at a screening of "The Student Prince of Old Heidelberg" (USA, 1927).
While studying in Heidelberg, Prince Karl Heinrich falls in love with a young and pretty hostel maid. Alas, the king dies and Karl succeeds him. He will try everything to escape the protocol and find the girl.
Differences of status, love and drama. The exuberant student life versus royal duty, passion against renunciation are the cornerstones of a turbulent story brilliantly directed by Ernst Lubitsch, best known for his "sophisticated comedies" including the legendary "Ninotchka".
The film, starring Ramon Novarro, Norma Shearer, Jean Hersholt and Gustav von Seyffertitz, will be subtitled in English.
Those wishing to attend (max. two tickets) should reserve tickets from the Cinémathèque via email: cinametheque@vdl.lu or tel.: (+352) 4796-2644 before 25 February 2019.