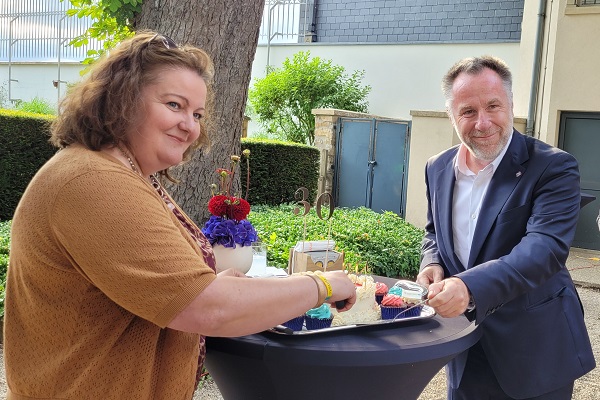 British Ambassador Fleur Thomas and BCC Chairman Daniel Eischen cut the BCC's 30th birthday cake; Credit: Jazmin Campbell
The British Chamber of Commerce (BCC) in Luxembourg held a Summer Garden Party at the British Ambassador's Residence on Thursday evening as part of its 30th anniversary celebrations.
Despite the stormy weather, over 100 people gathered in the gardens of the official residence of Ambassador Fleur Thomas in Luxembourg-Ville to celebrate 30 years of the BCC promoting trade between the United Kingdom (UK) and Luxembourg and offering a platform for people to meet and exchange ideas on various topics.
The British Ambassador to Luxembourg, who presented her credentials in April 2021, began by noting that one of the highlights of her tenure so far had been the possibility to invite BCC working groups for breakfast briefings and to host other BCC events at her official residence. Ambassador Thomas highlighted the cultural, royal and governmental links that exist between the UK and Luxembourg, links which are "as strong as ever", she added. She recognised that Brexit had made some people uneasy but assured that the British Embassy in Luxembourg was "working very hard for the best bilateral relations with Luxembourg".
Ambassador Thomas highlighted some of the many British cultural acts coming to Luxembourg in the near future: an exhibition dedicated to The Rolling Stones' frontman Mick Jagger at Casino 2000 in Mondorf-les-Bains which will run from 1 to 31 July 2022; an exhibition from the Tate gallery, "John Constable's English Landscapes", which will be on display at Villa Vauban in Luxembourg-Ville from 2 July to 9 October 2022; a performance by English singer-songwriter Boy George and his band Culture Club in Esch-sur-Alzette during Luxembourg Pride Week (1 to 10 July) on 9 July 2022; a concert by Welsh singer Tom Jones at Neumünster Abbey (neimënster) in Luxembourg-Grund on 14 July 2022.
Regarding royal links, the British Ambassador highlighted the recent celebrations in honour of the Platinum Jubilee and 96th birthday of Her Britannic Majesty Queen Elizabeth II, adding that she had been "deeply honoured" to have had His Royal Highness the Grand Duke of Luxembourg visit the exhibition dedicated to Queen Elizabeth II in this context.
Ambassador Thomas went on to stress the importance of commercial links between the two countries, particularly in the financial services industry, and emphasised that the British Embassy wanted to help this relationship and to enable it to grow and be "very healthy".
The British Ambassador described the last four months, following the lifting of COVID-19 restrictions, as "incredibly busy", with the Luxembourg visit of the UK's Trade Commissioner to Europe, Chris Barton, and the London visit of Luxembourg's Minister of Finance, Yuriko Backes, among others. She also noted that several bilateral agreements had been signed recently, including a tax treaty aimed at avoiding double taxation and preventing tax evasion. Ambassador Thomas praised the "really strong work" carried out by her team at the British Embassy and expressed her gratitude to them. She noted that the Embassy aims to help the BCC and its members achieve greater success through these channels and was open to listening to their comments and concerns.
BCC Chairman Daniel Eischen thanked the British Ambassador for once again opening up her residence and garden to the BCC. He recalled that five years ago he had been in this same spot for the 25th anniversary of the BCC (back when Joanna Denton was Chairwoman), celebrated in the presence of English actor Jude Law, who had been in Luxembourg to perform the play "Obsession" at the Grand Théâtre. Mr Eischen reflected on how much has been learned within the BCC over the past five years. He stated that the BCC had been relevant ten, 25 and 30 years ago because it "adapts to the world around it", adding that it had evolved naturally alongside its members. He said that he was looking forward to what the next five years have in store for the BCC and expressed his hope that everyone present would be a part of this journey and take advantage of it.
Mr Eischen added that he was confident everything would work out because of the great people at the BCC. He thanked his team for organising this event, as well as the BCC's sponsors, groups and members for their support. He recalled that the 30th anniversary celebrations were not yet over; future festivities include the "Brits, Bites and Banter" event at the Luxembourg House of Financial Technology (LHoFT) on Wednesday 13 July 2022, as well as a cricket event (with local cricket team, the Optimists Cricket Club) on Sunday 18 September 2022, various business meetings and the traditional Christmas event.
Throughout the evening, attendees enjoyed a walking dinner, cocktails from Opyos Gin and live music entertainment from Double Entente and the Edith van den Heuvel Trio.