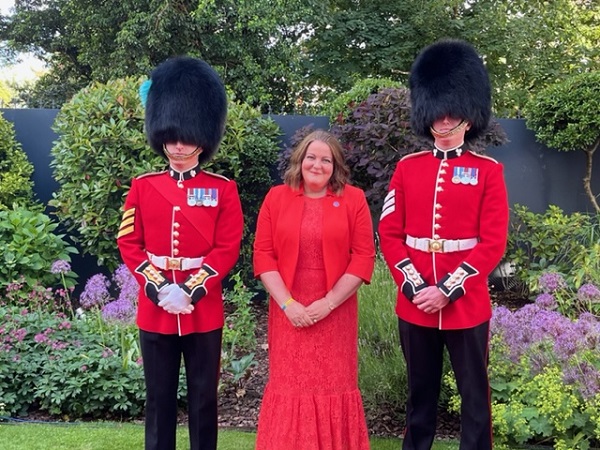 British Ambassador to Luxembourg, Fleur Thomas, pictured with two Irish Guards; Credit: Geoff Thompson / Chronicle.lu
On Thursday 9 June 2022, the British Ambassador to Luxembourg, Fleur Thomas, hosted an Evening Reception at her residence to celebrate the Platinum Jubilee and 96th birthday of Her Britannic Majesty Queen Elizabeth II.
The rain of recent days held off during the two-hour after-work event, enabling the invited guests enjoy the outdoors in Luxembourg summertime.
Ambassador Thomas addressed the 300-strong attendees who included Luxembourg's Minister for Family Affairs and Integration, and for the Greater Region, Corinne Cahen, other ambassadors including Stephen Dawson, Ambassador of Ireland to Luxembourg, representatives of Luxembourg ministries and the international communities, both business and social, as well as other VIPs.
Ambassador Thomas made a brief speech, flanked by two Irish Guards who had welcomed everyone upon arrival, keeping her address concise and to the point, allowing everyone to enjoy the food and drink, as well as conversation with friends and business acquaintances whom they have hardly seen for the last two and a bit years.
She acknowledged it being a very long time since the last celebration and she also referenced Ukraine fighting for their freedom in a fitting moment which drew applause from the crowd, many of whom were sheltered by a large marquee which had been erected in case of inclement weather (a previous such summer garden party at the same venue saw everyone trying to squeeze into the building when the heavens opened; there was no need for that this time, but the embassy could not be accused of not being prepared).
She highlighted everything that had been arranged for the celebration, including a gin bar, a cider and beer tent, a bar serving Her Majesty's favourite aperitif, gin and Dubonnet, as well as finger food including Coronation chicken, plus classic fish & chips, while sweet items included Jubilee trifle and Scottish shortbread, as well as another favourite of Queen Elizabeth II: Chocolate Biscuit Cake.
Ambassador Thomas then thanked everyone involved in the planning of the event, from PwC as sponsor, a musical student from St Georges International School and the band from the NATO supply agency, NSPA.
There was even an exhibition in one of the downstairs reception rooms inside the residence (for the contents she thanked Dominique Vitali from Ville d'Esch); and concluded that part of her address by thanking the embassy staff.
She added that everyone was assembled to celebrate both Her Majesty's birthday and her Platinum Jubilee; she has had a wonderful 70 years as head of the Commonwealth. During that time, she had undertaken a total of 260 international visits, including 110 state visits to 100 countries. During her reign she has seen no fewer than fourteen Prime Ministers.
She mentioned a competition the embassy had run which was won by Laura Shaw (from St George's International School). She had won the chance to shadow the British Ambassador for a day for her essay on gender.
Upon exploring the gardens of the Ambassador's residence, there were a number of treats in store, one of which was Paddington Bear at a table with a pot of tea and a purse filled with marmalade sandwiches…
Inside the residence building was the exhibition comprising a number of photographs, including of state visits Queen Elizabeth II undertook to Luxembourg in June 1972 and in November 1976.
Upon leaving, guests were presented with a memento of the occasion, a special edition tin of Platinum Jubilee edition tea bags.
Those who had parked in Glacis in Luxembourg-Limpertsberg had the opportunity to travel to and from the event on board a big red British double decker bus.
Background
Queen Elizabeth II is the longest-reigning monarch in British history, having surpassed the reign of her great-great-grandmother, Queen Victoria, on 9 September 2015. Born in Mayfair, London on 21 April 1926 to the then Duke and Duchess of York, she became heir presumptive to the British throne upon the accession of her father, who became King George VI, following the abdication of his brother, King Edward VIII. Upon the death of her father on 6 February 1952, the then 25-year-old Princess Elizabeth became queen regnant and was crowned Queen Elizabeth II on 2 June 1953 in Westminster Abbey, following a period of mourning.
Queen Elizabeth II celebrated her Silver Jubilee in 1977, her Golden Jubilee in 2022 and her Diamond Jubilee in 2012. These milestones were celebrated with various events as well as jubilee tours in Great Britain and Northern Ireland and official visits to the Commonwealth countries. The Queen's Ruby and Sapphire Jubilees in 1992 and 2017 respectively were commemorated in a more private manner.
Fast forward to February 2022 and Queen Elizabeth II reached another milestone as the first British monarch to celebrate a Platinum Jubilee. To mark the unprecedented occasion, a special four-day bank holiday weekend was held in the United Kingdom from Thursday 2 to Sunday 5 June 2022. On the agenda were numerous public events and community activities, plus national moments of reflection on the Queen's 70-year reign. Highlights included the Queen's Birthday Parade on 2 June, Platinum Jubilee Beacons, a Service of Thanksgiving on 3 June, the Derby at Epson Downs and a Platinum Party in front of Buckingham Palace on 4 June, and the Big Jubilee Lunch and the Platinum Jubilee Pageant on 5 June.