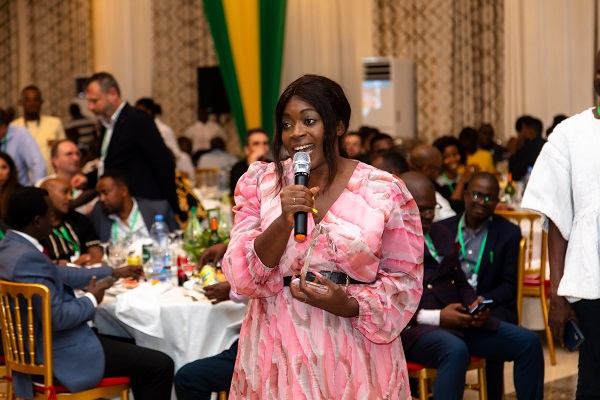 Virginie Pouna Ngomi, CEO & co-founder of COVA Africa; Credit: LHoFT
COVA Africa, an insurtech dedicated to French-speaking Africa, has won the sixth edition of CATAPULT: Inclusion Africa.
From 16 to 20 October 2023, representatives of ten African fintechs travelled to Togo in Lomé to take part in the latest edition of CATAPULT: Inclusion Africa, an accelerator programme focused on financial inclusion, developed and delivered by the Luxembourg House of Financial Technology (LHoFT) and supported by Luxembourg's Development Cooperation programme.
Hosted at the African Microfinance Week (Semaine Africaine de la Microfinance - SAM), this edition marked the inaugural programme in Africa and the first session conducted in French, aimed at amplifying inclusivity for French-speaking fintechs.
A pitch session unfolded on the evening of Thursday 19 October 2023 in front of a lively audience, where each participant had a five-minute window to present their innovative solutions, followed by a two-minute interactive Q&A session with a distinguished jury.
Alongside Geneviève Hengen, Deputy Director for Bilateral Development Cooperation at Luxembourg's Ministry of Foreign and European Affairs, the jury panel also included industry partners such as Laura Foschi, Executive Director of ADA, and other figures from the realms of finance and microfinance, including Gildas Zodome, CEO of Verti Agri, Grégoire Yakan, CEO of Koosmik, and Luc Kpenou, Sales and Marketing Director of the GIM-UEMOA.
The highlight of the event was the announcement of the winner, COVA Africa, who was awarded the prize by Geneviève Hengen.
"'Alone we go faster, together we go further' [African proverb]. Thanks to the COVA Africa team for their hard work every day and to the Luxembourg House of Technology for giving COVA Africa the opportunity to immerse itself in Luxembourg's financial inclusion ecosystem for a few days and benefit from exceptional advice, training and meetings. [...] We are proud to be the winner of the sixth edition of Catapult Africa, the first edition in French, and to bring the trophy back to Cameroon," commented Virginie Pouna Ngomi, CEO and co-founder of COVA Africa.
The LHoFT recalled that CATAPULT: Inclusion Africa has accelerated 70 companies from over 25 countries since its launch. This year, there were over 140 applications from which ten fintechs from seven countries were selected for the one-week program,e. This edition featured 26 sessions and the involvement of 28 experts and 38 mentors. The programme was supported by various strategic partners and covered a range of topics, including business model mapping, scaling strategies, peer due diligence processes, sales strategies, business plan presentation, operational and risk management, funding and capital raising, as well as social impact.
Nasir Zubairi, CEO of the LHoFT Foundation, commented: "CATAPULT: Inclusion Africa's latest edition was a remarkable convergence of firsts - our inaugural programme in Africa, hosted at the SAM, and the first to be conducted in French. This not only signifies the expanding impact of the programme but also our commitment to inclusivity and localisation in fostering African fintech innovations. The participants showcased incredibly promising solutions that echo the future of financial inclusion. I express my heartfelt gratitude to our community and partners for their unwavering support in this transformative journey."
Franz Fayot, Luxembourg's Minister of the Economy and Minister for Development Cooperation and Humanitarian Affairs, added: "Luxembourg's Development Cooperation is convinced of the catalytic role played by fintechs in supporting groups left behind by the traditional financial system - and the finalists of this year's CATAPULT have proven this once again. Their innovative solutions are a demonstration of how the financial inclusion sector and the use of their exceptional technology can promote financial services that meet the needs of local communities."
The ten fintech startups who pitched for the final of the CATAPULT: Inclusion Africa Togo Edition were:
- Amira Global Technologies (Abidjan, Ivory Coast), a company specialising in digital transformation that has put in place a number of social impact solutions based on its online payment solution, Paiement Pro. This solution enables businesses and entrepreneurs to open up to new markets by accepting mobile payments in several African countries;
- Ca Pay (Libreville,Gabon) for a web-based payment platform which aims to give people excluded from the traditional financial system and living in remote areas easy access to financial transactions. Through its Capay web platform, it enables companies to pay salaries, bonuses, subsidies, etc. using mobile money for their unbanked employees;
- COVA Africa (Douala, Cameroon), an insurtech dedicated to French-speaking Africa. The company uses technology, innovation and partnerships with sectors more popular than traditional insurance to facilitate the distribution of insurance in Cameroon and French-speaking Africa. It offers turnkey solutions for the digital marketing of tailor-made insurance products to various partners wishing to distribute insurance products to their customers as complementary cover to their basic products;
- Dreamcash (Yaounde, Cameroon) with its product MiQo, a financial application for mass financial inclusion, providing a fully digital bank account to unbanked and underbanked people in French-speaking Africa with a smartphone;
- Kola Group (Yaounde, Cameroon), a digital microfinance company that helps unbanked individuals and small and medium-sized enterprises in sub-Saharan Africa access credit, payment solutions and manage their finances through digital solutions;
- MicroFinance Pro SARL (Lomé, Togo), whose SAAS solution tackles the problems of collecting money for MFIs and enables MFI customers to easily access their current/savings account on their own mobile phone and transfer money to accounts, locally and abroad;
- Orya Technologies (Dakar, Senegal), an African fintech that positions itself as an application programming interface (API) provider for financial services. It is working to build secure and inclusive technology for financial professionals in Africa;
- Rubyx (Dakar, Senegal), a data-driven fintech offering micro, small and medium enterprises credit solutions for service providers in emerging markets. With its solution, it aims to close the funding gap faced by informal entrepreneurs and small businesses to finance their operations;
- ToumAI Analytics (Rabat, Morocco), which offers a SaaS Data Analytics platform that collects and analyses local data in Africa, whether audio or written, whatever the local dialect of expression. The company aims to give a voice and economic and financial weight back to local communities in Africa, while enabling international investors to better manage local risks through more granular and robust data;
- Wajenzi (Luxembourg), a digital marketplace that enables African SMEs to raise funds from individuals and institutional investors in the EU and the US in exchange for an equity stake in their company. Wajenzi's mission is to promote financial inclusion by connecting individual investors such as the diaspora, European and American retail investors, institutional investors and governments with African SMEs seeking financing to develop their activities.