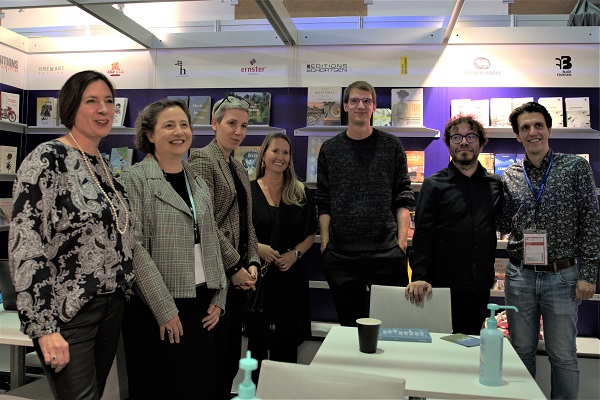 (3rd from left) Sam Tanson, Luxembourg's Minister of Culture, at Frankfurt Book Fair 2022; Credit: Marco Pavone
Thursday 20 October 2022 saw the opening of the "Books from Luxembourg" stand at the Frankfurt Book Fair (Frankfurter Buchmesse), in the presence of Luxembourg's Minister of Culture, Sam Tanson.
"Books from Luxembourg" is located in Hall 3.1 at the Frankfurt Book Fair and is being organised for the second consecutive year by kultur|LX.
The stand brings together ten Luxembourg publishing houses: Black Fountain Press, capybarabooks, Editions Guy Binsfeld, Editions Schortgen, Ernster Editions, Hydre Éditions, KIWI E.L.G., Kremart Edition, PassaParola Editions and PersPektiv Editions. There will be 37 publications (fiction, non-fiction, children's books) in five original languages (Luxembourgish, French, German, English and Italian) at the stand.
During a networking event organised by kultur|LX on Thursday evening, Minister Tanson commented on the theme of the 2022 edition of the fair, "Translate. Transfer. Transform.": "The contours of the Luxembourg literary landscape could be defined by the following words: dynamic, diversified, multilingual. And this is how Luxembourg is fully in line with the theme of the Frankfurt Book Fair 2022. In Luxembourg too, translations and the mediation of Luxembourgish authors abroad are at the centre of concerns".
Since January 2022, kultur|LX has supported twelve translations and advises foreign publishers and book professionals who wish to contribute to the development and dissemination of literature from Luxembourg.