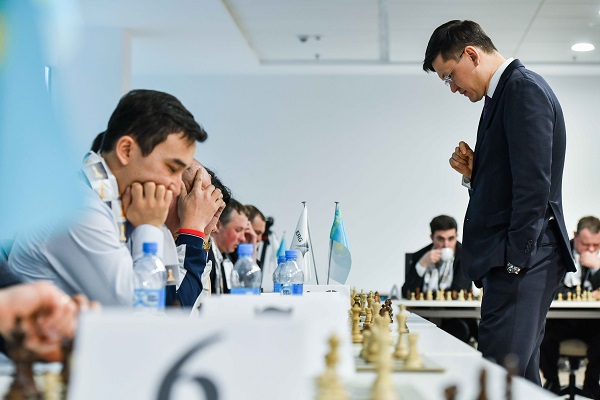 Credit: ERG
Eurasian Resources Group (ERG), a leading diversified natural resources group headquartered in Luxembourg, has announced that its chess players recently made it to the quarterfinals of the FIDE World Corporate Chess Championship.
From 19 to 21 February 2021, ERG participated in the first FIDE World Corporate Chess Championship alongside 36 grandmasters and reigning world champion, Magnus Carlsen. ERG's employees won first place in the qualification group of ten teams and advanced to the quarterfinals.
The inaugural tournament brought together 1,475 chess players and 288 teams from around 70 different countries, including employees from multinational corporations such as Microsoft, Boeing and Google. ERG's team was represented by Yury Mazunin, Head of Cost and Headcount Control at the Group's HR Centre, Igor Sannikov, foreman of the first section for equipment repair works at Aluminium of Kazakhstan JSC, Salima Sakenova, quarry lorry dispatcher at Eurasian Energy Corporation's Vostochny mine, and Desimbek Yakhin (reserve player), Head of the Purchasing Department at Shubarkol Komir. In keeping with the rules of the tournament, Kazakh grandmaster Anuar Ismagambetov was also invited to join the team.
In the group tournament, ERG's employees defeated 37 teams, including players from the likes of Credit Suisse, Tata Consultancy Services, Czech commercial bank CSOB, Rosseti, VKontakte and BCG GAMMA, and succeeded in reaching the quarterfinals with Sber (Sberbank), ERG's long-term business partner, with whom the Group recently agreed to further extend cooperation under the Sber ecosystem. Sber, the favourites of the tournament, went on to compete in the finals.
Zhandos Abishev, Executive Director of the Kazakhstan Chess Federation, wrote in a letter: "The success of the ERG team was highly appreciated by the leadership of the International Chess Federation (FIDE) and this received wide coverage in the world chess media".