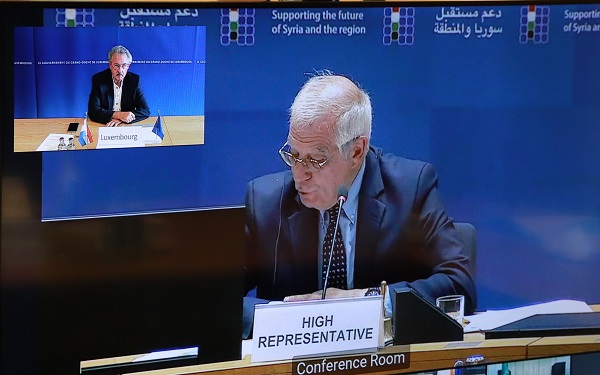 Jean Asselborn, Luxembourg's Minister of Foreign and European Affairs; Credit: MAEE
Luxembourg's Minister of Foreign and European Affairs, Jean Asselborn, participated in the fourth Brussels Conference on Supporting the Future of Syria and the Region, which was held today via videoconference.
This international conference, organised by the European Union (EU) and the United Nations (UN), brought together the foreign ministers of many states, including the neighbouring states most directly affected by the Syrian crisis, particularly Jordan, Lebanon and Turkey, as well as UN officials and representatives of civil society.
The objective of the conference was to renew and strengthen the political, financial and humanitarian commitments of the international community in order to support the Syrian population, the countries bordering Syria and the communities most affected by the conflict.
During his intervention, Minister Jean Asselborn stated: "Only a political process led by the Syrian people and leading to a peaceful and inclusive transition will make it possible to achieve lasting peace, in accordance with the 2012 Geneva Communiqué and Security Council resolution 2254". In this context, he reiterated Luxembourg's support for the efforts of UN Special Envoy for Syria Geir Pedersen "to finally set in motion a political process worthy of the name".
Given that lasting peace will not be possible if impunity for the most serious crimes persists, Minister Asselborn reiterated Luxembourg's continued support for the UN's International, Impartial and Independent Mechanism (IIIM) responsible for facilitating the investigation of crimes committed in Syria.
"Pending a political solution, aid must continue," added Luxembourg's Foreign Minister. "It is absolutely necessary that cross-border humanitarian aid to Syria continue beyond 10 July. To that end, the implementation of the measures taken in Security Council resolution 2165 must be extended".
With regard to reconstruction, Minister Jean Asselborn recalled that the position of Luxembourg and the EU in this regard remains unchanged: "no aid for reconstruction without a political process".
The Foreign Minister recalled that Luxembourg has contributed significantly to humanitarian action for Syria and its neighboring countries since 2012. In fact, since 2016, the government has committed to devoting €7.5 million each year until 2020, through the Luxembourg Development Cooperation. During this fourth conference in Brussels, Minister Jean Asselborn stressed that the commitment made in 2016 at the London conference has been kept and he announced that Luxembourg will maintain its commitment at the same level for the year 2021.
As children's education is essential, including in crisis contexts, a third of Luxembourg's support will continue to be dedicated to Unicef's initiative "No Lost Generation".