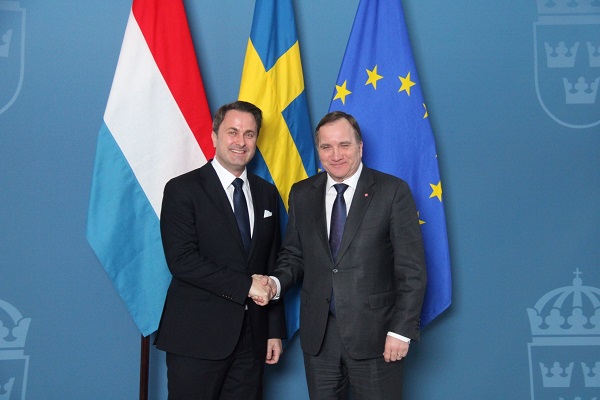 L-R: Luxembourg's Prime Minister Xavier Bettel; Sweden's Prime Minister Stefan Löfven; Credit: ME
On Monday 3 February 2020, Luxembourg's Prime Minister Xavier Bettel met with his Swedish counterpart Stefan Löfven for a working meeting in Stockholm.
During this meeting, Xavier Bettel commented: "Sweden is an important partner of Luxembourg on the European and international scene in essential fields, for example with regard to the fight against global warming, the social dimension or even the digital internal market and the defence of the rule of law".
The Luxembourgish and Swedish Prime Ministers exchanged views on European current affairs and took stock of the next steps in the implementation of the European Union's strategic agenda. In this context, they raised the subject of the next multiannual financial framework (MFF).
Xavier Bettel concluded: "The MFF is supposed to provide the means necessary for our Union to achieve our strategic priorities. Without an ambitious, reformed and future-oriented MFF, EU action in crucial areas such as the fight against climate change, research, education, digitalisation and security will be very limited. Not investing in these areas equals not investing in our future and that of future generations. This is just not acceptable for Luxembourg".