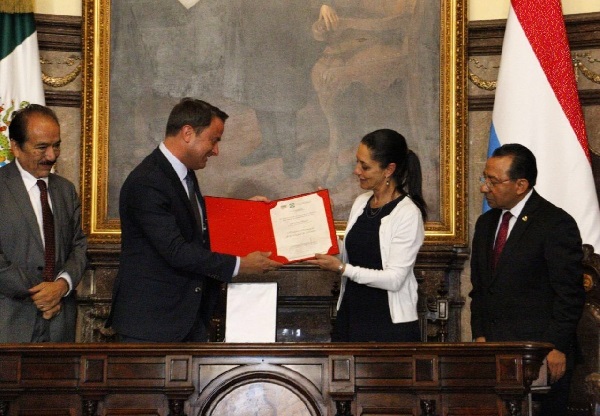 Luxembourg Prime Minister Xavier Bettel named honorary citizen by the Mayor of Mexico City, Claudia Sheinbaum Pardo; Credit: Mexico City; ME
During his official visit to Mexico City, Luxembourg Prime Minister Xavier Bettel highlighted the strength of relations between Mexico and both Luxembourg and the European Union, before being named an honorary citizen of the Mexican capital.
The trip, held from 7-9 April 2019, marked the first such visit from a Luxembourg head of government to Mexico City since that of Pierre Werner in 1980 and aimed at strengthening bilateral relations between the two countries. The Prime Minister was accompanied by an economic delegation composed of Luxembourg's finance chief, Nicolas Mackel, and the Deputy Director of the Luxembourg Association of Investment Funds, Anouk Agnes.
On 8 April, Prime Minister Xavier Bettel met with Mexican President Andrés Manuel LópezObrador at the Presidential Palace, where they discussed, among other things, the strengthening of bilateral relations. In this regard, the Luxembourg Prime Minister noted that the relations between Mexico and Luxembourg are strong and anchored in the long term: "your invitation is for me a signal of confidence. I hope that our meeting will give new impetus and help open new avenues of cooperation between Mexico and Luxembourg."
The meeting also provided an opportunity to discuss major European and international issues. In this context, Xavier Bettel recalled that Mexico is an extremely important partner for the European Union, especially following agreement "on the modernisation of the global agreement between the European Union and Mexico". Luxembourg has shown its support for this soon-to-be signed agreement.
During a working lunch with Foreign Minister Marcelo Ebrard, the possibilities of strengthening bilateral co-operation were similarly discussed, as well as the regional situation and co-operation in multilateral areas. The Prime Minister stressed that Mexico and Luxembourg often work hand in hand in multilateral institutions, such as the United Nations, where the two countries share the same commitment for major initiatives, such as the implementation of the Paris Agreement on Climate and the 2030 Agenda for Sustainable Development.
On 9 March, the Prime Minister was received by the mayor of Mexico City, Claudia Sheinbaum Pardo, and at a ceremony he was named "honorary citizen" of Mexico City. Commenting on this occasion, Xavier Bettel stated: "Luxembourg and Mexico City are very different cities, but we share the same values ​​and principles. [... ]I will cherish this decoration as a symbol of the close relationship we have not only between Mexico City and the City of Luxembourg, but also between our two countries."
Finally, the Prime Minister was welcomed by the President of the Senate of the Republic, Martí Batres Guadarrama, to participate in a formal session of the Senate during which he was invited to deliver a speech. The speech focused on relations between the two countries and convergences to strengthen multilateralism.