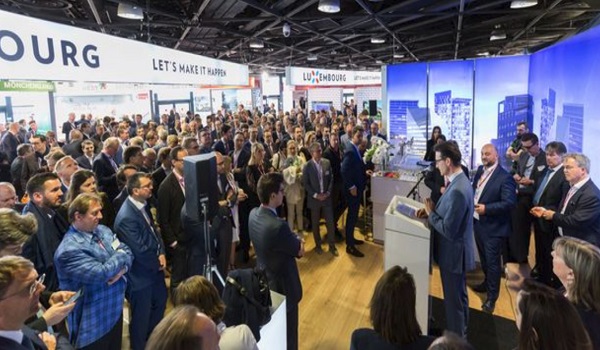 Nearly 450 Luxembourg visitors attended this year's Marché International des Professionnels de l'Immobilier (MIPIM) in Cannes.
For the 14th consecutive year, the Luxembourg Chamber of Commerce installed its national pavilion at MIPIM. With 19 co-exhibitors on the pavilion and nearly 450 Luxembourg visitors to the show, Luxembourg has joined the top 10 in terms of visitors, according to the organisers.
The MIPIM stands out today as a key event in the real estate sector, a rare opportunity to discover the big trends of the sector and to make new business. The 30,000 participants registered at this 30th edition of MIPIM had the opportunity during the whole week (12-15 March) to meet on the national pavilion with the representatives of the following companies: Agora, Arendt & Medernach, Bank of Luxembourg, Dagli workshop of , Drees & Sommer, DSM, ICN, Luxembourg ING, Inowai, Luxembourg Immo, Lex Thielen & Associates, Order of Architects and Engineers (OAI), Socom, Somaco, City of Luxembourg, Willemen and three new exhibitors: Eurocaution, Eaglestone and Felix Giorgetti.
The traditional official reception on the Luxembourg pavilion took place on Wednesday 13 March and met with great success, attracting nearly 250 participants. To further support the presence of the Grand Duchy at the show, Etienne Schneider, Deputy Prime Minister and Minister of the Economy, Lydie Polfer, Mayor of the City of Luxembourg and Her Excellency Martine Schommer, Ambassador of Luxembourg in France, were also also present at the reception.