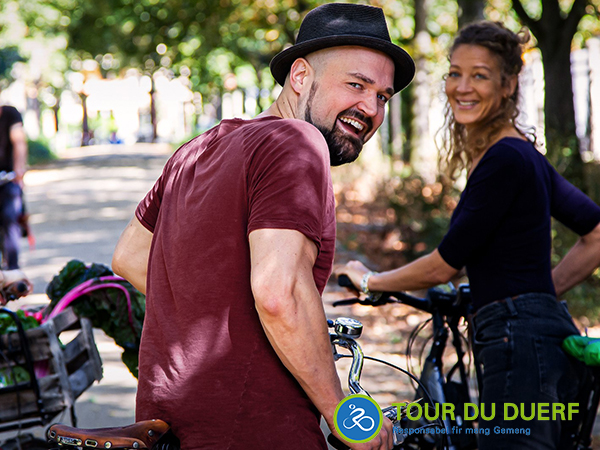 Tour de Duerf;
TOUR du DUERF is a campaign developed by Klima-Bündnis (Climate Alliance), the largest network of cities, municipalities and rural districts committed to protecting the world's climate: for the 8th year in a row, it is being organised in 2021 by Klima-Bündnis Lëtzebuerg and Luxembourg's Ministry for Mobility and Public Works.
Local politicians, local inhabitants, school classes, clubs and companies team up to promote cycling, raise awareness for climate protection and improve their quality of life. On 21 consecutive days, as many kilometres as possible should be covered by bike or e-bike for professional and private purposes with zero emissions.
Who is able to participate in the TOUR du DUERF campaign?
• Members of the city councils/regional committees of participating municipalities/regions;
• Inhabitants of participating municipalities/regions;
• Anyone who works, belongs to a club or attends school or university in a participating municipality/region.
Where can I see if my municipality is participating?
All participating municipalities/regions are listed on tourduduerf.org. Should your municipality/region not feature in this list, approach your city council and suggest that they participate in the campaign!
Where can I sign up and record the kilometres I have cycled?
Sign up for your municipality/region on www.tourduduerf.org
After signing up, the kilometres cycled can be entered here, which will then automatically be credited to the team and municipality. Participants with a smartphone are able to use the TOUR du DUERF / CITY CYCLING app (for Android and iOS systems) to enter their kilometres. The app is very handy (it is no longer necessary to log in via the website) and it is even possible to simply use your mobile phone's GPS function to calculate the exact route and kilometres covered.
Participants without internet access may sign up through their team captain and forward them their kilometres, so that they can enter them into the cycle log.
Interested? More information and registration on www.tourduduerf.org !