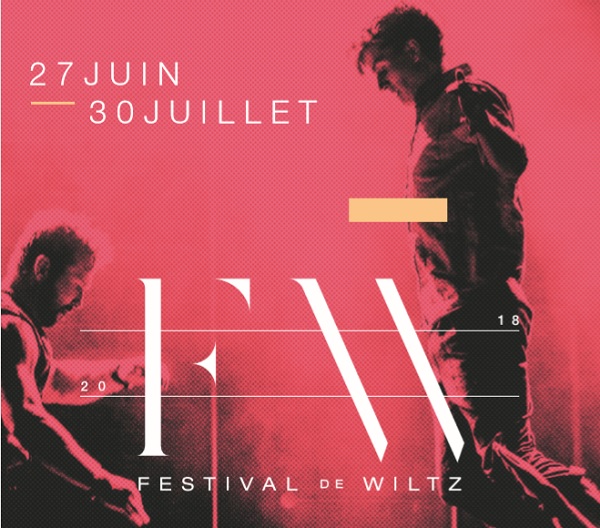 Chronicle.lu, as Media Partner, in association with the Festival de Wiltz and Cooperations asbl, is offering 2 pairs of FREE tickets to Don Quichotte that is taking place on Wednesday 11 July 2018 at 20:30 at the Chateau de Wiltz. Please see below on how to enter.
The 66th edition of the Festival de Wiltz will take place between 27 June and 30 July 2018, with most events taking place in the open-air covered amphitheatre in the shadow of the Chateau de Wiltz.
In terms of its programme, the Wiltz Festival stays true to its self-imposed standard of excellence: over five weeks this summer it will host premieres and new crossover productions featuring national and international artists of a variety of genres, from nouveau cirque, opera and musical to jazz, indie electronic, klezmer and chanson. And in addition to the tasty cultural events on the menu, the festival's food village will provide a range of culinary delicacies to delight one's palate.
Wed 27 June @ 21:15: Gravity & Other Myths: Backbone (Australia): tickets €48, €38 (children €33, €26)
The award-winning Australian company Gravity & Other Myths present their sensational show "Backbone." For the first time live on stage in Luxembourg, the dancers and acrobats will set out to redefine the laws of gravity in a breath-taking performance.
Sun 1 July @ 15:00: Peter Pan (Germany): ticket price tbc
Children from the age of four will be thrilled to find Peter Pan on the menu of this year's Festival de Wiltz. Theater Lichtermeer from Germany invite the small folk and the bigger folk to join them for a fantastic trip to Neverland.
Wed 4 July @ 20:30: Jazz Session: Caleidoscop (Luxembourg): tickets €30 (children €21)
And the festival has another premiere in store: The newly founded ensemble Caleidoscop from Luxembourg, featuring Sébastien Duguet, Daniel Gruselle, Victor Kraus and Jeannot Sanavia, will compile a special programme for their performance at Wiltz, encompassing music from many different corners of the globe, from klezmer to Argentine tango and traditional Balkan tunes.
Sat 7 July @ 19:00: Esou schmacht Wooltz Dinner-concert: free entry
The Weeltzer Musek will again host a dinner concert this year, under the heading Esou schmacht Wooltz: local associations will prepare a range of international delicacies to delight the palate, and the Flying Orkestar will support the Weeltzer Musek with genuine Balkan vibes.
Wed 11 July @ 20:30: Don Quichotte (opera, Spain; in German): tickets €60, €50 (children €42, €35)
Spanish company Le Tendre Amour come to Wiltz with a special opera production in tow: Joseph Bodin de Boismortier's opera classic Don Quichotte in the company's celebrated adaptation as an opéra comique, seasoned with extra dance numbers and acrobatics. For the performance at the festival, the ensemble will be supported by Luxembourg's Lux Vocalis choir.
Thu 19 July @ 20:30: Jazz Session: Ernst Molden: Yeah (Austria): tickets €30 (children €21)
This year's jazz session at the Hexenturm features the award-winning blues and jazz singer and songwriter, Ernst Molden, from Vienna. In his first ever performance in Luxemburg he will be telling stories about love and life, granting the audience a fascinating glimpse into the depths of the Viennese soul.
Fri 20 July @ 19:00: Neoclassical/ Jazz/ Electro: tickets €40 (children €28)
The one-day Festival within the Festival is an evening dedicated to cross-over. The programme includes four acts: the Berlin-based ensemble Brandt Brauer Frick, arguably the most exciting merger between classical instruments and club music, featuring trumpet, tuba, violin, cello, harp, piano, drums, percussion and Moog synthesizer; Francesco Tristano from Luxembourg, who is considered to be one of the most innovative pianists of his generation, and regards himself as a commuter between techno and classical music; Jerome Klein, also from Luxembourg, with his latest project KLEIN, a play with contrasts in a minimalistic setting, and Glass Museum from Belgium.
Thu 26 July @ 20:30: Trio Joubran - lutes & percussion: tickets €48, €38 (children €33, €26)
Trio Joubran bring the mysterious beauty of faraway lands to Wiltz: the virtuoso lute players, accompanied by a percussionist, will delight the audience with oriental music in all its shapes and guises. The trio have performed at large concert halls, such as the Carnegie Hall, and most recently have collaborated on a project with Pink Floyd's Roger Waters.
Mon 30 July @ 19:00: Melody Gardot (USA): tickets €57
Melody Gardot, the distinguished singer-songwriter and Grammy Award winner from Philadelphia, will be making a stopover at Wiltz during her European tour. Her finely nuanced jazz and soul chansons and her marvellously soft voice are a treat not only for jazz lovers.
The festival's food village, which offers regional products supplied by Traiteur Niessen, is open on performance days from one hour prior to the start of the show.
For most of the above events, tickets are valid for free public transport (Rodange - Luxembourg - Wiltz - Luxembourg - Rodange) - see www.cfl.lu
To apply for your FREE tickets to Don Quichotte that is taking place on Wednesday 11 July 2018 at 20:30 at the Chateau de Wiltz, please enter below (requires registration & log-in) and state your mobile telephone number. The draw will be made at 12:00 on Monday 9 July. Winners will be contacted directly. Winning tickets will be available at the venue on the day.