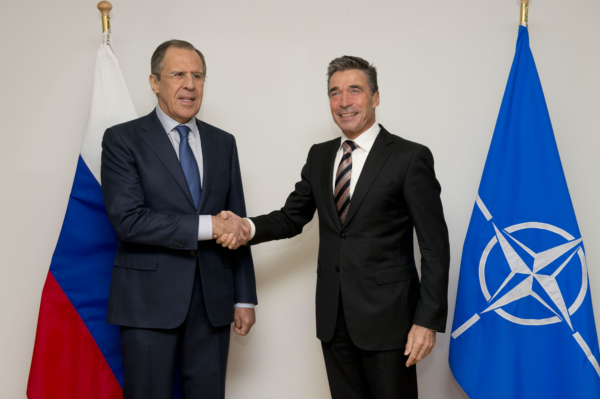 Russian Minister of Foreign Affairs, Sergey Lavrov, meets with NATO Secretary General Anders Fogh Rasmussen, 28 January 2014; Credit: NATO
The North Atlantic Treaty Organization (NATO) is an intergovernmental military alliance between twelve countries formed following the North Atlantic Treaty signed on 4 April 1949. This piece aims to look at the history of NATO-Rassia relations and their impact on modern-day politics.
1949 - 1989
Between 1952 and 1982, four other countries joined the original twelve-member NATO alliance. Current member states include 28 European countries, the United States (US) and Canada, whilst Bosnia and Herzegovina, Georgia and Ukraine are recognised as aspiring members. Headquartered in Brussels, Belgium, NATO member states agreed to mutual defence, in case of an attack on any one or more of its members.
In 1955, in response to the rearmament agreement for West Germany and its joining the NATO alliance, the then Soviet Union and seven other Eastern Bloc republics formed the Warsaw Treaty Organization, also known as the Warsaw Pact, a collective defence treaty similar to NATO but serving as a countermeasure to the NATO alliance.
1990 - 2008
In 1990, East Germany withdrew from the Warsaw Pact following German reunification.
On 25 February 1991, the Warsaw Pact was dissolved by the six remaining countries while in December 1991, the Soviet Union collapsed. Relations between NATO and the newly formed Russian Federation were established within the framework of the North Atlantic Cooperation Council. (Note: all Warsaw Pact countries except the former Soviet Union joined the NATO alliance over time).
In 1992, the Bosnian War began as a result of the break-up of Yugoslavia, with NATO extending its activities for the first time to a non-member state, to Bosnia from 1992 to 1995 (and later to Yugoslavia in 1999).
On 28 February 1994, NATO shot down four Bosnian Serb aircrafts violating a no-fly zone, the first active military action during wartime.
On 22 June 1994, Russia joined the Partnership for Peace programme and deployed peacekeepers in NATO-led operations in the Western Balkans in the late 1990s. Finland and Sweden too joined NATO's Partnership for Peace programme.
In 1995, NATO's bombing campaign helped bring the Yugoslav Wars to an end, with NATO deploying a UN-mandated peacekeeping force, taking operational control from December 1996 until December 2004.
In 1997, the NATO-Russia Permanent Joint Council (PJC) was established as a forum for consultation and cooperation.
In 1998, Russia established a diplomatic mission to NATO while NATO opened an Information Office (NIO) in Moscow in 2001 and a Military Liaison Mission (MLM) in 2002 to facilitate communication.
In 1999, relations soured following the NATO bombing of Yugoslavia and recognition of Kosovo. On 11 June 1999, at the end of the Kosovo war, a joint NATO-Russian peacekeeping force was to be installed in Kosovo while Russia expected a region independent of NATO, which NATO refused. From 12 to 26 June 1999, a tense stand-off between NATO-led Kosovo Force (KFOR) and the Russian Kosovo Force at the Pristina Airport unfolded. Russia suspended its relations with NATO due to differences over the Kosovo crisis but later resumed meetings within the PJC following the end of NATO's air campaign in Kosovo. (Note: In March 2014, Russia justified the recognition of "declaration of independence of Crimea", which cited the "confirmation of the status of Kosovo by the United Nations International Court of Justice on 22 July 2010, which says that unilateral declaration of independence by a part of the country does not violate any international norms").
In 2002, the PJC was replaced by the NATO-Russia Council (NRC), a forum for consultation on security issues and cooperation between NATO and Russia.
Then Georgian President Mikheil Saakashvili (January 2004 to November 2007, and January 2008 to November 2013) aimed for Georgia to join NATO.
In 2004, the European Union Force (EUFOR) replaced NATO peacekeeping troops in Bosnia. Seven countries joined NATO including three former Soviet republics, namely Estonia, Latvia and Lithuania.
On 10 February 2007, at the Munich Security Conference, Russian President Vladimir Putin criticised NATO's enlargement to include former Soviet republics, in one of his first public speeches opposing NATO expansion in Europe.
On 3 and 4 April 2008, at the NATO summit in Bucharest, President Vladimir Putin opposed the US plans to deploy missile defences in Poland and the Czech Republic, and as well as Georgia and Ukraine's NATO membership bids.
On 1 August 2008, Russian-backed South Ossetian forces started shelling Georgian villages and in response, the Georgian army were deployed on 7 August.
On 8 August 2008, Russia launched a full-scale land, air and sea military operation in Georgia, referring to it as a "peace enforcement" operation in South Ossetia. A ceasefire agreement was negotiated on 12 August 2008.
On 26 August 2008, Russia recognised the independence of Abkhazia and South Ossetia from Georgia. The Georgian government severed diplomatic relations with Russia while formal meetings of the NRC were suspended. (Note: In 2021, the European Court of Human Rights ruled that Russia maintained "direct control" over the separatist regions in Georgia).
2009 - 2013
In 2009, Croatia and Albania joined NATO.
In December 2009, NATO approached Russia for help in Afghanistan requesting permission for the alliance to fly cargo and possibly military planes over Russian territory to Afghanistan. However Russia only allowed the transit of non-military supplies through its territory.
On 5 February 2010, Russian President Dmitry Medvedev approved the Russian Federation's Military Doctrine, which opposed further enlargement of NATO and viewed NATO as its potential enemy but was ready to cooperate provided that NATO took Russian interests into consideration.
On 30 May 2011 and on 6 June 2011, NATO and Russia participated in their first ever joint submarine exercise and fighter jet exercise, respectively, since the Cold War.
In April 2012, there were some protests in Russia over their country's involvement with NATO, conducted by the leftist activist alliance Left Front.
2014 - 2021
In March 2014, tensions increased between NATO and Russia as a result of Russia's move to annex Crimea and on 1 April 2014, NATO unanimously decided to suspend all practical co-operation with the Russian Federation. However, the NATO-Russia Council (NRC) was not suspended. Since April 2014, all military cooperation under the NRC has been suspended.
In October 2014, according to a US State Department report, Russia had 1,643 nuclear warheads, one more than the US. In effect, both countries were in violation of the 2010 New Strategic Arms Reduction Treaty (New START) treaty that capped the maximum number of deployed nuclear warheads at 1,550.
On 25 December 2014, Russian President Vladimir Putin approved a revised national military doctrine and acknowledged NATO's buildup near the Russian borders as a military threat.
In 2016, NATO countries agreed on the creation of NATO's Enhanced Forward Presence, which deployed four multinational battalion-sized battlegroups in Estonia, Latvia, Lithuania and Poland, on a rotational basis.
In March 2018, in response to the poisoning of Sergei Skripal, a former Russian military officer and double agent for the British intelligence agencies, and his daughter, Yulia Skripal, with a nerve agent in Salisbury, England, the maximum number of personnel in the Russian Mission at NATO Headquarters was reduced from 30 to 20.
On 7 June 2018, NATO announced that its member states had committed to a NATO Readiness Initiative by 2020, to have 30 land battalions, 30 air squadrons and 30 naval combat vessels ready to deploy within 30 days of being put on alert, made available for collective defence and crisis response operations.
On 20 October 2018, the US declared its intention to withdraw from the Intermediate-Range Nuclear Forces (INF) Treaty signed on 8 December 1987 between the US and the Soviet Union, which banned both countries from developing or deploying any ground-launched missiles that could travel between 500 km and 5,500 km, due to supposed Russian non-compliance. Although the INF treaty is not directly related to NATO, a BBC report published on 4 Dec 2018 quoted the NATO foreign minister's statement: "Allies have concluded that Russia has developed and fielded a missile system, the 9M729, which violates the INF Treaty and poses significant risks to Euro-Atlantic security".
On 21 March 2019, in an interview article published by Russian Interfax news agency, NATO Secretary General Jens Stoltenberg was quoted as saying: "we are planning for a future without the INF Treaty, and with more Russian nuclear missiles in Europe". He was further quoted: "However, we do not intend to deploy new land-based nuclear missiles in Europe". (Note: Three NATO member states, the US, France and the UK, are nuclear weapons states while Under NATO nuclear weapons sharing arrangement, the US has supplied nuclear weapons to Belgium, Germany, Italy, the Netherlands and Turkey).
On 27 March 2020, North Macedonia joined NATO.
In October 2021, NATO revoked the accreditation of eight members of the Russian Mission to NATO as undeclared Russian intelligence officers. That same month, Russia suspended its diplomatic mission to NATO and demanded that NATO to close its NIO and MLM in Moscow.
In December 2021, Russia proposed a legally binding treaty to NATO and the US, demanding that NATO to neither enlarge further to the East nor deploy military forces or weaponry in member states that joined after 1997.
2022 -
On 12 January 2022, at the NRC meeting in Brussels, NATO members and Russia discussed Russia's military buildup near its border with Ukraine and proposal for security guarantees in Europe.
On 24 January 2022, the aircraft carrier USS Harry S. Truman, along with its carrier strike group and air wing, were placed under the NATO Naval Striking and Support Forces Command, marking the first time an entire US carrier group was placed under NATO command since the Cold War.
On 28 March 2022, NATO members agreed to establish four additional multinational battlegroups in Bulgaria, Hungary, Romania and Slovakia.
On 12 May 2022, the Finnish president and prime minister announced in a joint news conference that Finland must apply to join the NATO military alliance "without delay", a historic policy shift. The NATO Secretary General Jens Stoltenberg said that Finland "would be warmly welcomed" to the alliance, while Russia, which had repeatedly warned Finland and Sweden against joining NATO, viewed the Finnish announcement as a direct threat and said that it was prepared to make a "decisive response", further escalating NATO-Russia relations to reach a new low.