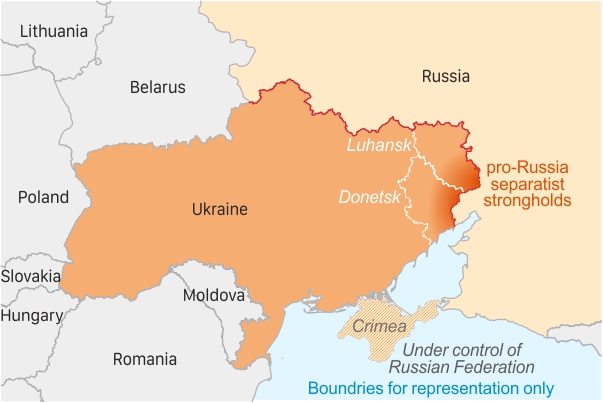 Map first published on 24 December 2021 on Chronicle.lu; Credit: Kangkan Halder
Following the exploration of Russia's stand and military options in Ukraine, here we continue to delve into non-militarily options for Russia and the spill-over effects on world economics, commodities markets and food and energy security.
Natural Gas
On Monday 7 March 2022, Russian Deputy Prime Minister Alexander Novak warned in a televised broadcast that Russia could turn off the gas through its Nord Stream 1 pipeline to Europe in response to sanctions and the ban on Nord Stream 2 gas pipeline.
While no decision / action has yet been taken, the eventuality remains an option as several EU Member States have rejected Russia's demand for payments for its gas in roubles.
With payments to be made in roubles for Russian gas, and potentially later for oil, grain, metals, fertiliser, coal and timber exports, this will force buyers to open accounts in Russian banks for euro or US dollar transfers which are then converted to roubles for gas payments or acquire roubles themselves from the open market. Either way, it will support the rouble to regain value and push the already high gas prices further. Additionally, it will have more control over foreign currency entering the Russian economy through buyers paying directly to Russian banks and it may also split the EU consensus on sanctions.
Although technical limitations remain, like gas production, that cannot be halted quickly but over a period of several weeks and redirecting large volumes to other destinations has its own logistical challenges, in the past, Russia had stopped all gas supplies passing through Ukrainian territory, between 1 and 4 January 2006, showing that Russia can or may follow up on its threat.
Consequently, it is unlikely that Russia will abruptly stop Nord Stream 1 but more likely to reduce delivery to Europe gradually as it slowly reduces production capacity. This will also allow it to build further pressure on Europe rather than a "shock" created by an abrupt shut-down.
Interestingly, the EU has not sanctioned the Russian Gazprombank, one of the main establishment for payments for Russian oil and gas, and it remains an open channel for compromising negotiations in the coming days and weeks.
OPEC Oil
Without a clear commitment of a substantial increase in oil production from the Organisation of the Petroleum Exporting Countries (OPEC), there are few alternatives with which to replace Russian crude oil.
However, the OPEC and non-OPEC Ministerial Meeting on 31 March 2022 proposed an output increase of by about 0.43 mbpd (million barrels per day) in May 2022, while the current global oil supply disruptions were to the tune of 5 to 6 mbpd (approx. 8% increase). Moreover, in an extraordinary meeting on 31 March 2022, OPEC replaced the Paris-based International Energy Agency (IEA) with immediate effect as the OPEC Member Countries' crude oil production data source, in a direct sign of snubbing the repeated calls by the US and the IEA to pump more crude oil.
The ministerial meeting confirmed a 10.549 mbpb crude oil production for Russia in May 2022, the same as that of Saudi Arabia, the largest producer within OPEC.
Currency Heavens
Following the Russian billionaire and oligarch's asset freeze and seize initiative from the EU and other countries, wealthy Russians are weighing the options to circumvent sanctions.
The Swiss Bankers Association (SBA) has estimated that up to $213 billion of Russian money lies in Swiss banks (one of its first kind of revelations), which increased pressure on Russian clients to redirect their wealth.
Recent media reports have seen an increase in high-end property sales in Istanbul (Turkey) and Dubai (United Arab Emirates); both countries also offer residency incentives for property buyers.
Transactions in cryptocurrencies have also increased, as a resort to avoid sanctions on Russian client sources.
China, Chinese Yuan
To date, China has avoided mentioning the Russian war in Ukraine as an invasion and has repeatedly opposed sanctions against Russia, describing them as ineffective. China also affirmed that it would continue normal economic and trade exchanges with Russia.
Russia's commitment to China was underlined by Russian Foreign Minister Sergei Lavrov on 24 March 2022, when he stated that Russia's relations with China were at their strongest level ever and, in reciprocation, China's Foreign Minister Wang Yi confirmed on 30 March 2022 that China and Russia are "more determined" to develop bilateral ties and boost cooperation.
China (as well as India and the United Arab Emirates) abstained from the 15-member UN Security Council resolution on 25 February 2022, deploring Moscow's invasion of Ukraine, thus underlining their hesitancy to take a clear side against Russia.
The International Court of Justice (ICJ) in The Hague ordered Russia on 16 March 2022 to "immediately suspend the military operations ... in the territory of Ukraine", a decision taken after a 13–2 vote, opposed by the Russian and Chinese judges.
In trading terms, China was the largest trade partner for Russia in 2020, while Russian crude oil made up 15.5% (just behind 15.9% by Saudi Arabia) of the total crude oil imports by China. Chinese-made broadcasting, telecommunication equipment and computers are major exports to Russia.
With the US ban on these high-volume goods and major revenue sources for Russia and China, and the exclusion of Russian banks from the global SWIFT financial messaging, Russia and China are likely to develop an alternate payment transfer system, centred on the Yuan, giving Chinese currency a global push against the US dollar.
China is also negotiating a multi-decade deal for Russian gas supply with an estimated value of $400 billion, helping Russia to diversify its natural gas business to non-European buyers while, for China, it will be a clean source of energy. Now, with the US and western economic sanctions in place, the negotiations are likely to accommodate the rouble and yuan as currencies of payments.
World Militarisation
Russia accounted for nearly 20% of global weapon sales between 2016 and 2020, just behind the US, which accounted for 37% of the global arms market. According to the Stockholm International Peace Research Institute (SIPRI), the main recipients of Russian weaponry between the same periods were India, China and Algeria, while those of US-made weapons were Saudi Arabia, Australia and South Korea. China is a major weapons manufacturer by revenue, just behind the US.
Following the Russian invasion of Ukraine, several European countries have pledged to increase their defence spending and modernisation of weapons systems, which is likely to increase global arms sales in 2022.
In terms of the global arms market, in the short- to medium-term, India and China will continue with Russian acquisitions while the US will likely be the main exporter to the EU.
One of the fallouts of the increased militarisation will probably be cutbacks in climate change initiatives and pledges, leaving little room for green technology research and development. Exacerbated by Russia, China, India, Brazil and Australia in geographic, economic and global population terms, climate change progress may be stalled or even see drawbacks.
Metals, Commodities, Food Shortages, Supply Chain Disruptions
Russia is the largest exporter of grains, natural gas and fertilisers worldwide and one of the largest exporters of crude oil and metals, including palladium, platinum, gold, cobalt, nickel and aluminium. The disruption in metals alone can bring shortages in steel production and electric vehicle battery production, disrupting passenger and commercial vehicle production. Payment restrictions coupled with restrictions on air transport and container shipping from Russian vessels will limit the exports of wheat, corn and fertilisers and would fuel global food shortages and inflation.
Supply chain for Krypton, Xenon and Neon gases have also been disrupted, of which the most critical was Neon gas production, as Ukraine accounts for nearly 70% of global needs and the two largest suppliers have stopped operation. Neon gas is critical for semiconductor chips and laser production and has the potential to disrupt the global semiconductor industry. The current inventories of semiconductor-grade Neon gas are not known.
The UN World Food Programme (WFP) had warned in March 2022 that the war in Ukraine could lead to a global food crisis to "levels beyond anything we've seen before".
Asymmetric Warfare, Long and Expensive
Several asymmetric military conflicts of the 21st century, most specifically the wars in Afghanistan, Iraq and Gaza, clearly show that even with a low military capability, regional conflicts can drag on for decades with a heavy human and economic toll and can inflict heavy costs and political loss for the militarily-superior invasive country.
Taking a cue from history, in the event of a lack of commitment from the US, the EU and NATO to scale back missile deployments in Europe, the Russia-Ukraine war could continue for a long time.
On 31 March 2022, Russian President Vladimir Putin signed a decree ordering 134,500 new conscripts into the army to "undergo professional training", indicating that Russia is probably preparing for a military long haul.
Following the invasion, NATO member states have supplied more than 18,000 anti-tank weapons to Ukraine whilst the US, the UK, the EU, Australia and Canada announced over $850 million in lethal military assistance, including anti-armour and anti-aircraft systems. Luxembourg announced 100 light anti-tank weapons, jeeps and fifteen military tents in military aid to Ukraine on 28 February 2022.
Moreover, the diplomatic talks will most likely end in a lose-lose ceasefire scenario with continued Russian occupancy, with the US, the EU and western powers emphasising a Russian ceasefire as a win for limiting humanitarian loss, while the continued Russian occupancy and de-facto control over the Donbas region is likely to be portrayed as a liberalisation and win for Russia.
Zero-Sum Game, Accountability
The current Russian invasion of Ukraine is a "zero-sum game" irrespective of the outcome in the long run. In the short term, displacing over ten million people and seeing civilian casualties in the thousands are a permanent geo-political and socio-economic fallout for all sides involved.
While one may argue that NATO missile deployments are for deterrence and preparation against any future invasion, such as the one being witnessed now in Ukraine, missile deployments are also the very reason given by Russia to invade Ukraine, deepening the mistrust against each other and blurring accountability for the current Russia-Ukraine conflict.
Trumpeting the War
Between March and April 2021, and later in October 2021, Russian military build-up near Ukraine border was reported and, on 13 November 2021, Ukrainian President Volodymyr Zelensky announced that Russia had amassed nearly 100,000 troops near the border.
First reports in the media, stating that US intelligence officials expected a Russian military offensive against Ukraine in early 2022, started in December 2021.
US President Joe Biden warned President Putin against any military action against Ukraine while rejecting Russia's demand to guarantee that Ukraine would not be allowed to join the NATO military alliance, noting that Ukraine is a sovereign and independent country.
On 11 February 2022, the US warned of an imminent Russian invasion of Ukraine and implored all US citizens to leave Ukraine urgently, within the next 24 to 48 hours.
Several media reports based on acquired US intelligence specified 16 February 2022 as a potential starting date for a Russian ground invasion. These pre-emptive media and intelligence reports of an imminent ground attack may or may not have influenced the Russian decision or timeline for invasion.
Following Russia's invasion of Ukraine, President Biden warned Russia against the use of chemical weapons, bioweapons and thermobaric bombs on civilians but rejected President Zelensky's appeal to establish a "no-fly zone" over Ukraine to limit Russian air-strikes, stating that it would put it in direct conflict with Russia and increase the risk of World War III starting. Similarly, the EU rejected the idea of enforcing a "no-fly zone" over Ukraine as it would mean to fly sorties (combat missions) over Ukrainian air space and a direct participation in the war.
Whilst avoiding a direct conflict remained the main objective, the US banned imports of Russian oil and orchestrated several economic and individual sanctions against Russia. These coordinated sanctions had a negative effect on the Russian economy as expected but did not seem to dissuade Russia's military campaign.
It is possible that US intelligence agencies expected Russian military withdrawal in the face of heavy economic sanctions and political isolation.
What will happen over the coming days and weeks is unclear, apart from, that is, the continued human suffering which has directly and adversely affected around one quarter of the population of Ukraine.