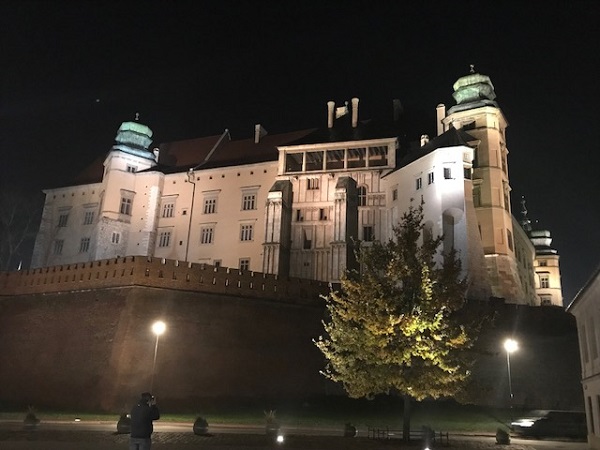 With LOT Polish Airlines starting their Luxembourg-Warsaw route in May last year, and this year increasing capacity, the airline is also promoting other destinations using Warsaw as a hub; they recently organised a familiarisation trip to Krakow, with just 90 minutes transfer time between flights coming from Luxembourg.
The flights between Luxembourg - Warsaw - Krakow were both on time with the seating configurations in the two different aircraft both offering generous legroom, and drinks and snacks served on both. Warsaw airport is modern and well laid-out with plenty of seating and many restaurants, cafés and shops to keep everyone occupied between flights.
Krakow airport has a current capacity of 6 million passengers annually (Luxembourg airport now has circa 3.5 million) but this also includes some long-haul flights, including to/from the US.
Driving to, and through, the city of Krakow, one could see a mix of transport - train, tram, bus, as well as a Vel'Oh-like public bicycle system; the road network is impressive. The architecture is a mix of drab box-like apartment blocks outside the city, interspersed with pretty single and double storey houses, with classical buildings adorning the city centre - not unlike Venice in some aspects in that regard; those buildings that did not have flat rooves has red tiles, not slates. But there are also many modern office and conference buildings located around the city centre; although there is little evidence of current construction projects - unlike Luxembourg at present - one can see a balanced mix of architecture.
We stayed at the Hotel Indigo, a wonderful recently refurbished trendy city-centre establishment offering a mix of modern concrete, steel and glass but also exposed old brickwork and wooden beams showcasing its rustic charm. The bedrooms were very decorative and comfortable, with a sumptuous breakfast in the mornings offering some Polish specialities in addition to Western fare.
Due to the close proximity of the hotel, we got to walk through the old city - both it and the rest appeared to be spotlessly clean and tidy throughout - with everywhere flat.
We strolled past the Barbican and the city wall leading into the old city which is mostly pedestrianised, and past an art museum with Da Vinci & Rembrandt paintings. The former kings of Poland used to live in the royal palace located atop a hillock the other side of the old city. The old city central square (Rynek Glowny) had opened its large Christmas market, surrounded by both classical and Gothic architecture including St Mary's Basilica (incredibly ornate inside with its famous Veit Stoss Altar) built in the 13th century on the site of a Romanesque Church.
Walking through the old city one eventually reaches the royal palace, behind which is the Jewish quarter; the zone inbetween used to be run down but, following the release of the film "Schindler's List", awareness had been raised and investment came flooding in, transforming the district into a trendy place to live. There are still many Israeli restaurants and synagogues, etc.
Underground Museum
We visited the Rynek underground museum which was created following extensive excavations and archaeological work on the old city market square between 2005 - 2010 which uncovered many unique artefacts, medieval cobblestones and ancient wooden beams.
The museum offers several unique audiovisual experiences and it also covers part of the city's history when it was invaded by the Tartars (3 times, no less) in the 12th & 13th centuries when wooden buildings with straw rooves were burnt to the ground; there is also evidence (artefacts) from the Ottoman empire as Krakov was on an old trading route. Several skeletons were also uncovered during the digs.
Auschwitz - Birkenau
A 90-minute drive towards Wroclaw from Krakow, the Auschwitz concentration camp receives circa 2 million visitors annually; between 1940-45 it received around 1.3 million people from all around Europe, of which 1.1 million were jews, circa 140 thousand were Poles, 23 thousand were Roma, 15 thousand were Soviet prisoners of war and the remaining from other ethnic groups. Around 1.1 million people died at Auschwitz, 90% of whom were Jews, the vast majority of whom were murdered in the gas chambers.
This was an option on the itinerary; visiting this place is not for everyone as it can evoke traumatic feelings. What happened here should never be allowed to happen again and the museum serves as a reminder as to a part of history of which there is much shame (this article does not purport to describe and explain everything behind the story; instead, it provides a snapshot of what is there to be experienced in person).
By the time the Nazis invaded Poland in 1939, all prisons in Germany were full. Auschwitz, already a prison, was filled to capacity before another prison was built nearby, in Birkenau (much larger, meaning the total capacity more than trebled to 130,000). This was not before people already imprisoned at Auschwitz were forced to build additional buildings to house more prisoners, both jews and non-jews. They lived/slept inside but were brought out daily to work - in fields for food as well as in factories, some of which produced carbon for the crematoria at Auschwitz.
When people arrived by train (at Birkenau) destined for Auschwitz, a selection was carried out, with circa 25% deemed fit for work, with the remainder being brought direct to the gas chambers. To avoid panic, they were told they were going to be disinfected, as their journey had been in closed train carriages without seats, toilets or even light. Initially the bodies were all buried; this was deemed to he too slow, so bodies were later cremated instead.
All buildings inside the concentration camp at Auschwitz remain intact, with each 3-storey building having housed up to 1,200 people. Some of the buildings now house museum exhibitions of the atrocities, some with photographs, some with possessions and other showing aspects of their daily lives. Surrounding the prison buildings was a double electric fence and guard posts.
Auschwitz II (Birkenau) was built when Auschwitz I became full; it had some buildings of brick (single-storey, unlike the 3-storey brick buildings at Auschwitz I) and some of wood - the latter originally foreseen as stables. Only a few of the wooden buildings remain; there were also four additional gas chambers and crematoria built here. As in Auschwitz I, the bunks were triple and had straw mattresses.
As stressed above, this is only a brief report of Auschwitz; one must visit oneself to learn the true horror of what happened over 70 years ago.
Wieliczka Salt Mine
The Wieliczka Salt Mine is a 15-20 minute drive outside Krakow, to the east of the city, a significant tourist attraction in the region. The deepest level of the mine is 327m, but the main public tours (over 1.5 million tourists annually) are on level -1 (64m deep) to level -3 (132m deep), accessible by a stairwell (descending) and an elevator (ascending) which some on the tour described as "rickety" - original lifts were powered by horses and using ropes and pulleys; nowadays they are all electrified.
The mine started operation in 1288 and parts are still operational today. But the public sections are open to the public as a tourist attraction, with locally-grown forests used to produce timber for the spacious tunnels underground which are at a constant 14C. The tourist trail underground is lined with concrete, so the paths are very smooth, with ample headroom and soft lighting, eliminating any claustrophobia. Horses used to work in the mines, but the miners could not bring them up and down every day, so they stayed underground for up to two years at a time.
The salt is between 60-92% pure, with impurities including sandstone and gypsum, etc. Statues, including one of Nicholas Copernicus, the astronomer, are located in the mine; although he was born in the north of Poland, he studied in Krakow in the 1490s and visited the mine. A captivating audiovisual display tells the story of a fable involving the mine in the 1200s. The miners used oil lamps; the greatest threat was methane gas.
The total tunnels stretch for 280km, within a 10km x 2.5 km area. While 26 shafts used to be in operation, just 6 remain, mainly used for ventilation.
The mine also included office rooms for the foremen, as well as a total of 26 chapels underground. The largest is used as a concert venue nowadays, as well as for weddings; the walls of which are carved showing statues and copies of famous paintings including Leonardo da Vinci's The Last Supper. Other large chambers (the largest is 36m high) are used from time to time for conferences, etc. (it is famous for New Year's Eve Parties...), and there is also a spa which helps people with breathing problems, e.g. asthma.
There are pumps and water channels installed to extract water, when required, and there are also underground salt lakes. And, to get out, the elevator only takes a few seconds to reach the surface. All most impressive, as is the overall state and upkeep of the attraction - a surprisingly good visit.
Other places to visit include Oskar Schindler's Factory, MOCAK (Museum of Contemporary Art), Wawel (the Royal Castle), numerous Churches, the Jagiellonian University and various other museums.
Cooking Workshop
On the Sunday morning, we visited the Kogel Mogel restaurant where we participated in a demonstration/workshop to prepare Pierogi, a Polish delicacy not unlike Italian tortellini / ravioli. The cook prepared the dough and showed us how to roll it flat and cut shapes, then the various alternatives of inserting the filling (either mashed potato with cream cheese, or chopped mushrooms) and pinching the sides closed before either boiling or frying them; interestingly, they are served without a sauce, unlike in Italy.
We then enjoyed the fruits of our labours, washed down by some local Polish wine...
Dining Out
On the Friday evening we went to Trezo, a marvellous Israeli restaurant (described within the Top Dining category) on the outskirts of the old town in the Jewish quarter - what an introduction to the cuisine in Krakow! See www.trezo.pl/en
On Saturday for lunch we visited the quaint Klimaty Poludnia restaurant (Top Casual) offering a mix of Polish and western European cuisine. See www.klimatypoludnia.eu/en
And Saturday evening we went to Szara Ges (Top Dining), off the Rynek Glowny, a rare dining experience overlooking the Christmas market. Another extraordinary meal! See www.szarages.com
Dining conclusion: one could plan a trip to Krakow around a fine dining tour, such is the quality of the cuisine, with plenty of excursions planned around the tour of top restaurants.
To get there: via LOT Polish Airlines - see www.lot.com