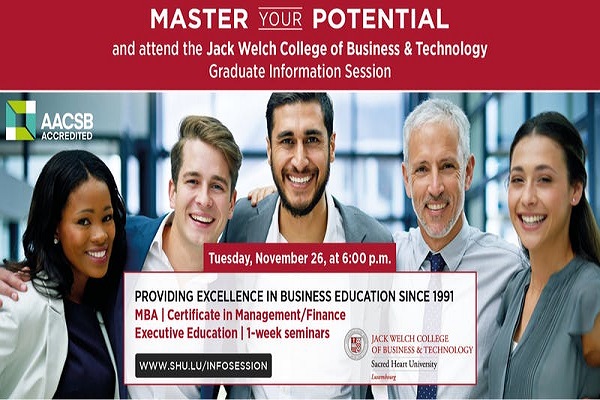 Details:
The Jack Welch College of Business of the Sacred Heart University (SHU) in Luxembourg it is holding an MBA Information Session on Tuesday 26 November 2019 at 18:00 at the Chamber of Commerce (Training Centre) in Luxembourg-Kirchberg.
The event will allow interested persons to meet with admissions representatives for Luxembourg's only AACSB accredited Business School and MBA for an on-campus information session to learn about what makes the SHU Jack Welch College of Business & Technology MBA programme unique, the flexible nature of the programme and the ins-and-outs of the application process.
Attendees will learn more about the school's part-time MBA, MBA with internship, certificate programmes, executive education and open enrollment courses in a presentation given by the Administrative Director. Admissions staff will be available to discuss admission requirements and procedures, as well as financial options for each of the academic programme.
To register for this free information session, visit Eventbrite: https://www.eventbrite.com/e/billets-mba-info-session-jack-welch-college-of-business-technology-78417118713.
Venue: Chamber of Commerce, Training Centre (7 Rue Alcide de Gasperi, L-2981 Luxembourg)
Organiser: Sacred Heart University Jack Welch College of Business & Technology
Price: Free
Reservations: See above