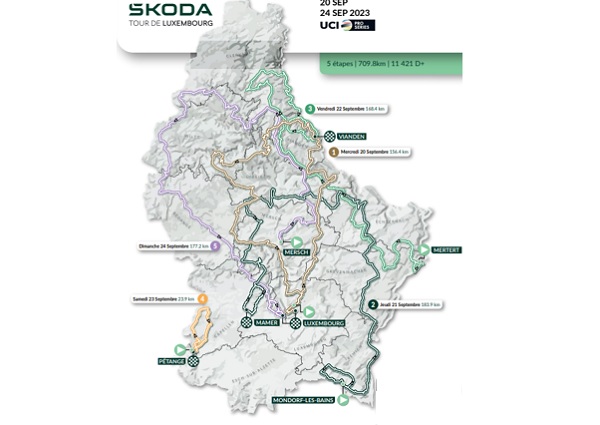 Details:
The Škoda Tour de Luxembourg 2023 cycle race kicks off on Saturday 20 September 2023 with five stages over five days, totalling a distance of 709.8km.
The Škoda Tour de Luxembourg is the premier professional cycling race in Luxembourg and part of the UCI Pro Series; a total of nineteen professional teams have entered this year's race, details of which are available online at https://skodatour.lu/.
The Tour de Luxembourg started in 1935. From its creation to the early 1980s, the event was mainly dominated by Luxembourgish, Belgian, French and Dutch riders such as Charly Gaul, Marcel Ernzer, Louison Bobet and Freddy Martens. The event only became international at the beginning of the 1980s, and victories started to come from Russian, Swiss and Danish riders. Since the invitation of cyclists from around the globe, big names have imposed themselves on Luxembourg roads, such as Bernard Hinault, Franck Vandenbroek, Thomas Voeckler, Christian Vandevelde, Jakob Fuglsang and Greg Van Avermaet. In 2005, the Tour de Luxembourg became Škoda Tour de Luxembourg and the car brand has been a partner of the event ever since. In 2020, the Škoda Tour de Luxembourg moved a level up a and entered the ProSeries division (second division of world cycling).
Luxembourg remains the country with the most victories (21 victories) ahead of Belgium (seventeen victories) and the Netherlands (eleven victories). The Luxembourgish cyclist, Mathias Clemens, is the most successful rider with five victories in the general classification. Previous winners include Fränk Schleck (2009; he also came 2nd in 2010 and 3rd in 2008 and 2012), Jakob Fuglsang (2012) and Lance Armstrong (1998).

Some of the world's elite cyclists will go head-to-head in a cycling race through some of Luxembourg's most iconic locations. From the heart of the vibrant capital city of Luxembourg to the tranquil countryside and villages, the route winds through some of the most breathtaking landscapes in the region. Whether one is a seasoned cycling enthusiast or a casual spectator, the Škoda Tour de Luxembourg is an opportunity to witness some of the world's top riders in action, whilst enjoying beautiful views and an energetic atmosphere.

Stage 1, Sat 20 Sep: 156.4km, Luxembourg-Grund to Luxembourg-Kirchberg (via Vianden)

Stage 2, Sun 21 Sep: 183.9km, Mondorf-les-Bains to Mamer (a few challenging hills along the way; the final of the stage is mainly flat, making it a great opportunity for sprinters to shine)

Stage 3, Mon 22 Sep: 168.4km, Mertert to Vianden (through some of Luxembourg's most picturesque countryside, with some challenging climbs along the way)

Stage 4, Tue 23 Sep: 23.9km, Pétange to Pétange (individual time trial; the route takes riders through the municipalities of Käerjeng, Steinfort and Garnich)

Stage 5, Wed 24 Sep: 177.2km, Mersch to Luxembourg-Limpertsberg (with a few challenging hills along the way)
Venue: Across Luxembourg
Organiser: Škoda Tour de Luxembourg
Price: n/a
Reservations: n/a