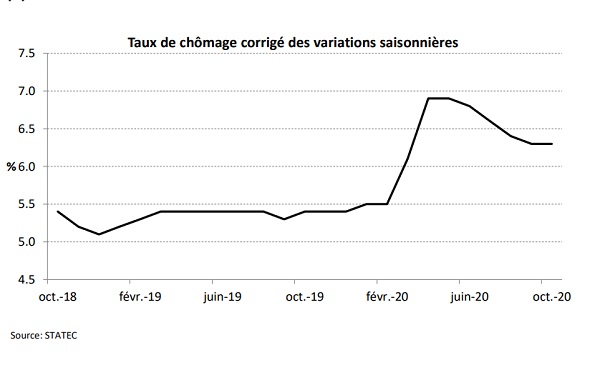 Credit: STATEC
The number of available resident jobseekers registered with the ADEM employment agency in Luxembourg has stablised, up just 0.5% over one month.
As of 31 October 2020, the number of available resident jobseekers registered with the ADEM was 17,971. Compared with September 2020, this represents an increase of 96 individuals, or 0.5%. Over one year, this figure rose by 19.5%. After a sudden rise in unemployment in March and April and a decline observed from May, the situation is stable for the moment.
In October 2020, 2,712 residents registered at the ADEM (down 10.7%, or 324 people, from October 2019). The rise in unemployment, observed over one year, was mainly explained by a decline in people going into employment rather than an increase in registrations. Over the past seven months, registrations fell by 4% compared to the same period last year. At the same time, the number of closed files fell by 17% year-on-year.
The number of resident job seekers receiving full unemployment benefits increased by 1,991 or 26.2% over one year, reaching 9,596. The number of beneficiaries of uncemployment measures stood at 4,067, which is below the level observed in October 2019 (a decrease of 253 people or 5.9%).
During the month of October 2020, employers declared 2,968 vacancies to the ADEM, which corresponds to a decrease of 8.5% compared to October 2019.
The seasonally adjusted unemployment rate, calculated by STATEC, remained unchanged from the previous month, at 6.3%.