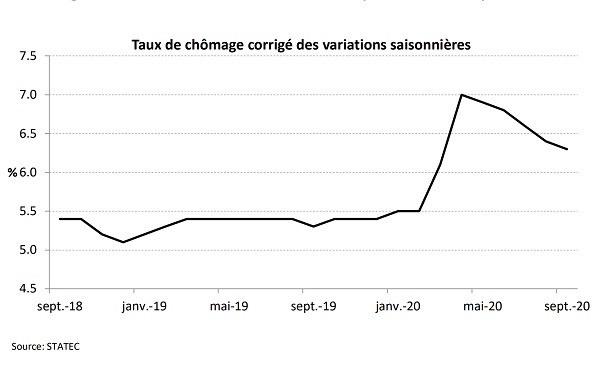 Credit: STATEC
The number of available resident jobseekers registered with the ADEM employment agency in Luxembourg has decreased by 3.5% over one month, but increased by 21.7% over one year.
As of 30 September 2020, the number of available resident jobseekers registered with the ADEM was 17,875. Compared with August 2020, this represents a decrease of 650 individuals, or 3.5%. Over one year, this figure continued to rise (up 21.7%).
In September 2020, 2,995 residents registered at the ADEM (down 3.8% over one year). The rise in unemployment was mainly explained by a decline in people going into employment rather than an increase in registrations. Over the past five months, registrations fell by 12% compared to the same period last year.
The number of resident jobseekers receiving full unemployment benefits increased by 2,197 or 29.8% year on year but remained under the 10,000 mark. The number of beneficiaries of unemployment measures stood at 3,953, and was slightly below the level observed in September 2019 (a decrease of 211 people or 5.1%).
During the month of September 2020, employers declared 3,170 vacancies to the ADEM, which corresponds to a decrease of 7.0% compared to September 2019.
The unemployment rate, adjusted for seasonal variations, calculated by STATEC, stands at 6.3%.