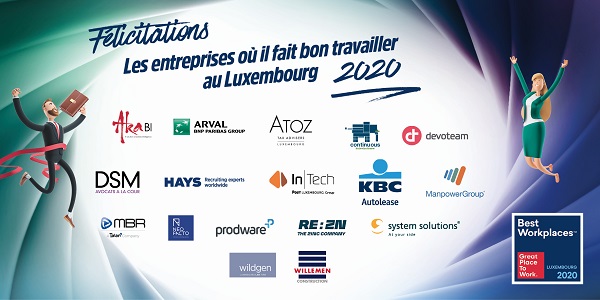 Great Place to Work® has announced the names of the top 20 companies where it is good to work in Luxembourg, as chosen for the 2020 edition of the Best Workplaces® awards.
Each year, the Great Place to Work® Institute rewards the best organisations where it is good to work across more than 60 countries. In 2020, the institute has celebrated its 10th prize list in Luxembourg by selecting 20 companies that make trust a driver of performance and well-being at work.
For this 10th edition, held this Thursday 4 June 2020, around 100 people gathered virtually to discover the 20 companies rewarded in four diverse charts both in terms of staff and business sectors represented. This year, more than 10,000 employees were interviewed, three times more companies were labelled in ten years and the employee participation rate went up by 12%.
Winners
Very small enterprises (10-19 employees):
Continuous S.A.
PRODWARE
Small enterprises (20-49 employees):
Hays Luxembourg
ManpowerGroup Luxembourg SA
Taleo
MBR - Talan
DSM AVOCATS A LA COUR
Rime-IT
KBC Autolease
Reazn
Arval Luxembourg SA
Medium-sized enterprises (50-99 employees):
Pictet Technologies
AkaBI
NEOFACTO
System Solutions Luxembourg SA
Willemen Construction SA
Wildgen S.A.
Large enterprises (100-499 employees):
InTech
ATOZ
Devoteam S.A.
The companies labelled this year stand out for the quality of their work environments and the working conditions available to their employees.
To find out more about how to have your company labelled in 2021 or to learn more about the Great Place to Work® approach, send an email to info@greatplacetowork.