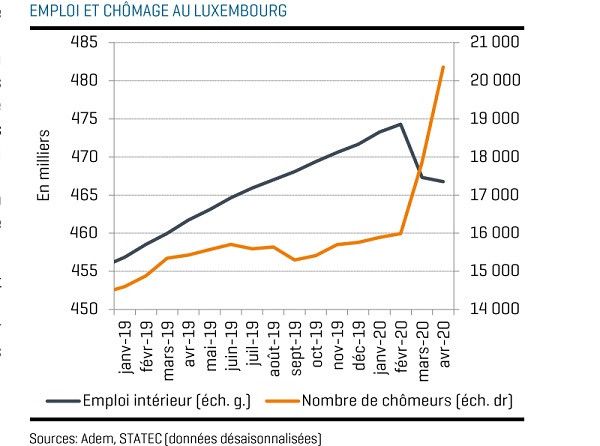 Credit: STATEC
The national statistical agency STATEC has estimated that unemployment in Luxembourg will increase by 29% this year and by 10% in 2021.
According to the latest report by STATEC, COVID-19-related confinement measures have led to an unravelling of economic activity in Europe since March.
In Luxembourg as elsewhere, employment and unemployment have been heavily and rapidly affected, despite support measures of an unprecedented scale. Job retention measures will probably allow employment to increase slightly in 2020 and 2021: +0.6% and +1.0% respectively, compared with +3.6% in 2019.
However, the increase in the number of unemployed is set to be pronounced this year (+29%), a trend which will continue in 2021 (+10%). According to STATEC, this illustrates a certain hysteresis of unemployment following the second-round effects that this major economic crisis will generate.