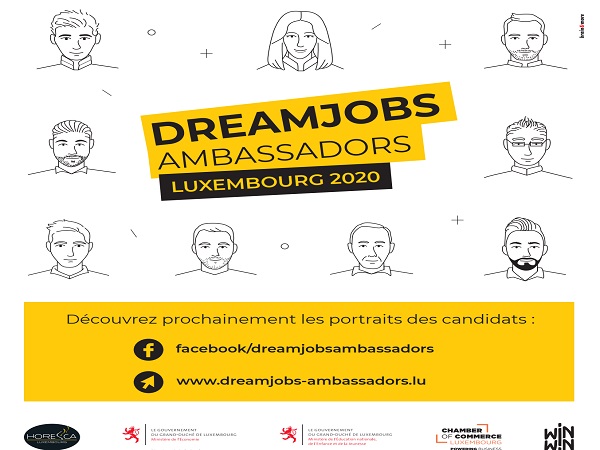 Luxembourg-based communications agency brain&more has announced the finalists of the "Dreamjobs Ambassadors" campaign.
Launched in November 2019 by the national hotel and catering federation HORESCA and the Luxembourg Chamber of Commerce, in partnership with the Ministry of the Economy and the Ministry of National Education, Childhood and Youth, the Dreamjobs Ambassadors campaign aims to promote, enhance and honour the talent of professions within the hotel and catering industry in Luxembourg.
In January 2020, the jury, composed of representatives of HORESCA, the École d'Hôtellerie et de Tourisme du Luxembourg (EHTL), the Lycée Technique de Bonnevoie (LTB) and a delegation from the Chamber of Commerce, selected nine finalists.
The general public will have the chance to discover these nine ambassadors one by one in the form of television reports, broadcast from 20 February until 12 March 2020 on RTL Television, as well as on social networks.
The grand finale will take place on 13 March 2020 at 16:00 pm during the "Springbreak" event at Luxexpo The Box, where two winners will be designated in each category (chef and waiter / bartender). The top prize for the two winners will be a trip to Expo 2020 Dubai. During the finale, visitors will have the opportunity to discover and meet the ambassadors as well as get an idea of ​​the varied daily life of the chefs, waiters and bartenders who have been selected to represent their profession.
The following nine ambassadors will give their voice to the sector:
Chefs
Clovis Degrave (chef and manager at Hostellerie du Grünewald)
Caroline Esch (chef and manager at Pavillon Eden Rose)
Nicolas Szele (chef and manager at Le fin gourmand)
Ben Weber (chef and manager at Gudde Kascht)
Waiters / bartenders
Jürgen Bilali (waiter at Beim Bertchen)
Xavier Dellenbach (bartender at Boos Beach Club)
Sébastien Dziezuk (room manager at Bistrot Parc Belair)
Sébastien Périé (head waiter and manager at Atelier Windsor)
Daniel Valdivia (bartender at Hôtel Le Royal Luxembourg)