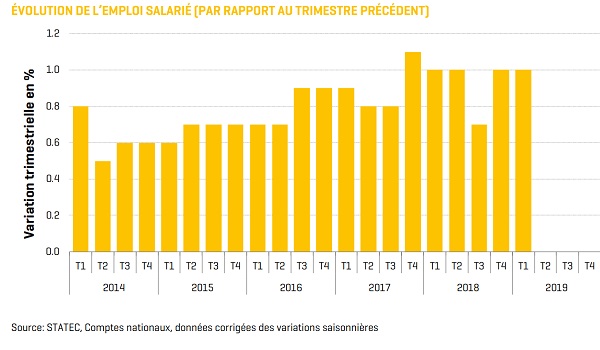 Credit: Statec
Salaried employment in Luxembourg has risen by 1.0% in the first quarter of 2019 and by 3.8% over twelve months, according to Statec.
This increase in the first quarter has been attributed to job creation in construction activities (+4.3% over one year), as well as in specialised activities and support services (+5.6% over one year).
The favourable development of the construction sector primarily resulted from electrical installation activities whilst that of specialised activities and support services was mainly due to accounting activities and current cleaning services of buildings.
Indeed, these branches covered 27% of salaried employment and accounted for 36% of net job creation between the fourth quarter of 2017 and the fourth quarter of 2018. During this period, the number of cross-border workers also rose significantly faster than that of residents (+5.0% compared to +2.8%). Among residents, the number of workers from the European Union increased by 1.9% while that of non-EU workers increased by 7.6%.