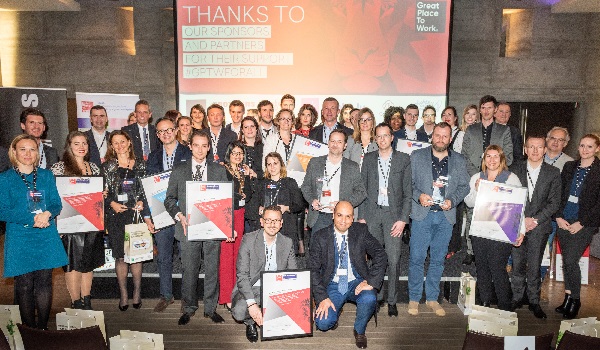 Winners; Credit: The Great Place to Work® Luxembourg
The 9th edition of the Great Place to Work conference and awards, held in Luxembourg on Thursday 21 March 2019, brought together some 200 CEOs and HR Managers.
The Great Place to Work event, organised by The Great Place to Work® Luxembourg Institute, rewards the best companies where it is good to work in Luxembourg. This year's theme was "Commitment to Work"; according to several studies, employees who are happy at work are less often sick, less often absent and more loyal, creative and productive.
In this context, four speakers shared their expertise and experiences in rethinking work commitment. The company Zenika, first in the French list 2018 opened the conference with CEO Carl Azoury sharing some key tips on preserving his changing corporate culture: "We are an empowering society, which means we let managers decide. Transparency leads to trust." Other speakers on this topic included Delphine Hosy, a teacher-researcher at ESAIP, who spoke about commitment and recognition at work versus boredom at work, and Michèle Detaille, leader of the ALIPA group and president of the FEDIL, who discussed the reasons for giving more responsibilities to women who want it but also how to achieve productive diversity. Finally, Arthur Meulman, General Manager of jobs.lu, presented the results of the survey conducted jointly with the Great Place to Work® Institute to the candidates of the Greater Region to analyse their expectations vis-à-vis their future employers, namely honesty.
The conference was followed by the Great Place to Work awards ceremony. This year there were 14 awards divided into five categories (including two new categories). The companies who received the "Best Workplace Luxembourg" label this year were: Prodware Luxembourg (very small companies, 10-19 employees); Aviva Investors Luxembourg and Tracol Immobilier (small companies, 20-49 employees); Agile Partner, ALD Automotive, AkaBi, Pictet Technologies and System Solutions Luxembourg (medium companies, 50-99 employees); Temenos Luxembourg, InTech, Atoz, CTG Luxembourg and The Adecco Group Luxembourg (large companies, 100-499 employees); Avery Dennison Luxembourg (very large companies, 500+ employees).