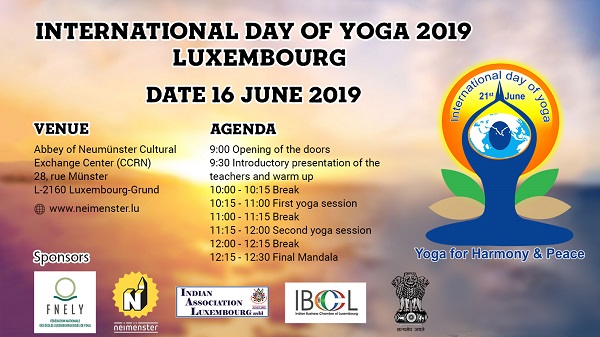 This Sunday 16 June 2019, between 09:00 and 12:30, the Abbaye de Neumunster in Luxembourg-Grund will host the Annual International Day of Yoga in Luxembourg which is being organised by the Indian Association Luxembourg.
Yoga is an ancient physical, mental and spiritual practice that originated in India. The word 'yoga' derives from Sanskrit and means to join or to unite, symbolising the union of body and consciousness. It is a holistic approach that is valuable to our health and our well-being. Yoga is not just about exercise; it is a way to discover the sense of oneness with yourself, the world and the nature.
The activities throughout this event will be under supervision and guidance from renowned Yoga Teachers in Luxembourg; there will be 500 T-shirts to give away at the event during registration.
AGENDA
09:00 Opening of the doors
09:30 Introductory presentation of the teachers and warm-up
10:00 Break
10:15 1st Yoga session
11:00 Break
11:15 2nd Yoga session
12:00 Break
12:15-12:30 Final Mandala
To make the process comfortable, participants are free to bring your own mats. Water will be provided throughout the day (reusable water bottles are encouraged).